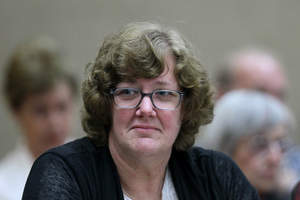 The Crown case has today closed in the Helen Milner 'Black Widow' murder trial.
After two weeks of evidence and about 70 witnesses, the Crown completed its case at 12.30pm today.
Milner, 50, denies killing Phil Nisbet, 47, by slipping the sedative Phenergan into his evening meal and, while he was heavily sedated, probably finishing him off with a pillow.
She then made his death on May 4, 2009 look like suicide, the Crown alleges, in the hope of cashing in the life insurance cash.
The tenth day of her murder trial in the High Court at Christchurch, the jury heard from the detective who was in charge of the eventual homicide investigation - launched two years after his death.
Police originally ruled suicide.
Detective inspector Greg Murton reviewed the case after a coroner raised doubts over the sudden death.
He put together a team of eight detectives to chase up a range of leads he identified had been overlooked in the original investigation.
It included interviewing all of Mr Nisbet's and Milner's workmates, friends, family and neighbours who may have been able to shed some light on the case.
Mr Murton, an experienced officer, also ordered a full financial analysis of the couple's accounts and finances, computers, and dragging records of all text message data for them both in 2009 - and any current data from Milner's cellphone.
Linguistic studies of an alleged suicide note and suicide text were also carried out to to verify authorship, while he also wanted to get hold of a 111 call transcript made by Milner, which had not previously been done.
He also wanted to know where and when the fatal dose of Phenergan was purchased, and by whom.
"I considered that a priority," he told the trial today.
A search warrant was carried out at Milner's new property in August 2011, where she was living with a new partner, Barry Hayton, who the trial has heard moved in with her a month after Mr Nisbet's death.
During the search, she was asked about Mr Nisbet's $250,000 life insurance policy.
She said she wasn't aware of its details, thinking it had been taken out by Mr Nisbet's parents years earlier.
Asked if she had anything to do with taking out the policy in 2008, she replied to Mr Murton that she had "nothing whatsoever" to do with it.
The second day of the high-profile trial heard from Stephen Westcombe, a financial advisor, who gave evidence that Milner was present with Mr Nisbet when his policy was taken out.
"She was there during discussions," Mr Westcombe told the jury.
"I'm not 100 per cent certain but it may have been Helen Milner that filled out the form on Mr Nisbet's behalf. I do believe Helen filled in some forms."
A 13-month suicide clause included in the policy expired three months before Mr Nisbet died.
Milner denies murdering Mr Nisbet on May 4, 2009, as well as attempting to kill him twice on April 15, 2009.
The Crown says Milner was unhappy in her marriage and was motivated to murder by the prospect of cashing in the $250,000 life insurance policy.
She plotted the best ways to kill her husband - buying drugs under false names, asking friends for views on poisoning methods and even offering to pay $20,000 for a hitman to kill Mr Nisbet, it is alleged.
The trial, before Justice David Gendall, has been adjourned to Monday morning when the defence will open its case and call witnesses.
After the defence closes, both sides will sum up their cases.
The judge will then give his directions to the jury before they begin considering their verdict, most likely on Wednesday.
- APNZ