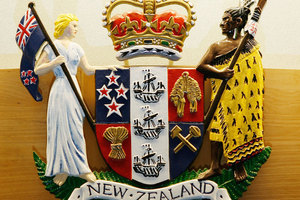 A man accused of shooting his ex-wife in the head during a domestic dispute has been sentenced to 10 and a half years in prison.
Sione Mafi Vaioleti, 61, was found guilty in November of attempted murder after he shot his ex-wife in her bedroom in the early hours of June 16, 2012.
In the High Court in Auckland this morning Justice John Priestley sentenced him to 10 and a half years in prison with a minimum non-parole period of three years and six months.
The court heard Vaioleti was living with his former wife in their Manukau home with two of their six grown children.
In the early hours of June 16, 2012, Vaioleti had returned from a night drinking with his friends drunk and shouting that his ex-wife tell him where a stash of money was hidden.
When she wouldn't tell him where it was, he punched her in the head.
Vaioleti then retrieved a pistol and brought it into the bedroom, hit the victim in the head and shot her in the jaw.
The bullet caused "massive destruction" to her teeth, jaw and became lodged in the back of her neck, Justice Priestley said.
In a victim impact statement read out by a Victim Support worker, the victim said she had "always been scared" of her ex-husband but she never thought he would do "something like this".
"I just had to sit there and wait for it to happen. I've never been so frightened, I just couldn't do anything.
"I didn't think I would see my children again."
The 61-year-old woman, who has severe diabetes, spent a month in hospital where she was "too scared to be alone", the statement said.
Since then, she has suffered depression and mood swings, and the damage to her jaw is so extensive she cannot repair her teeth.
Moving house to escape the shooting scene had also been a significant financial burden, the court heard.
"Sometimes I don't feel strong enough and it makes me angry. I used to be a trusting person ... I'm not like that anymore.
"I forgive him, but I will never forget what he has done to me."
Crown prosecutor Natalie Walker said Vaioleti had pushed the pistol into his victim's mouth before shooting her.
Justice Priestley accepted that was "probably" what had happened.
Vaioleti had attacked a "vulnerable and frail woman in her bed" with a particularly lethal weapon, he said.
"This was a very serious attack. The pistol was shot at very close range."
The sentence of 10 and a half years reflected the severity of the crime, Vaioletti's limited cooperation at his trial and his lack of remorse.
Mitigating factors were his age, poor health and limited premeditation.
Being heavily intoxicated had also clouded his judgement, he said.
Vaioleti will be eligible for parole after three and a half years. Once he has served his sentence he will be deported to Tonga.
- APNZ