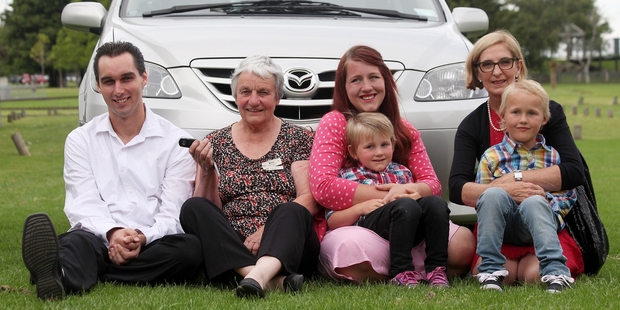 A Tauranga family with twins who have severe disabilities have had their wish fulfilled thanks to community generosity.
The Rotary Club of Tauranga has bought the family of Nikki Stokes and James Fowler-Oates a Mazda big enough for six members after reading of their plight in the Bay of Plenty Times Weekend.
The couple's youngest children, 18-month-old twins Felix and Madeline, were born with serious medical conditions.
Madeline is blind and her body does not produce enough hormones.
Her brother, Felix, was born without arms.
Rotary Club of Tauranga president Ann Pritchard said members felt for the family and wanted to do something to help.
"I had a child with disabilities but nothing like they've got," she said.
The couple were thrilled.
"It's fantastic. It will be huge. From our point of view it means that next year, if Felix is up in Starship [Hospital] we can all go as a family and stay in Ronald McDonald House.
"For me that's a big thing because I'm not having to do this on my own," Ms Stokes said.
Mr Fowler-Oates said it would make a tremendous difference.
"Just being able to be a family and travel around and not have to leave one of us behind. It will take a huge stress off especially for the next three years when we have a bit of stuff going on with the kids," he said.
For more articles from this region, go to Bay of Plenty Times