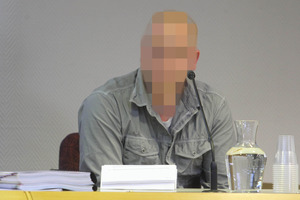 The trial of the murder accused dubbed the Black Widow has been told of a discrepancy in where she said her husband died.
Helen Milner, 50, is accused of killing Phil Nisbet then faking his death to make it look like suicide.
On the seventh day of her trial in the High Court at Christchurch, the jury was told that Mr Nisbet's brother Andrew said Milner told him his brother was found dead at the wheel of his delivery truck.
The trial has also heard a 111 call made by Milner on the morning on May 4, 2009, in which she said she'd just discovered her 47-year-old husband dead in their bed at their home in Halswell, Christchurch.
It wasn't until days later, when Andrew Nisbet flew from his Queensland home for the funeral, that he was told his brother had died in bed.
The family was told by Milner that she suspected he'd taken his own life because he'd been diagnosed with sleeping disorder narcolepsy, which meant he would have to give up his beloved career as a delivery driver.
Milner denies murdering Nisbet, her second husband, by giving him a fatal overdose of the antihistamine and sedative Phenergan, and possibly finishing him off with a pillow over his face.
She also denies attempting to kill him twice on April 15, 2009.
Nine days after Mr Nisbet's supposed suicide, Milner's own parents went to police with concerns she had murdered him, the court heard today.
Her elderly parents, Murray (now deceased) and Anne, her son Adam Kearns, his partner Kasey Woodstock, and a friend of Milner's called Gavin Milne together told a detective that Milner tried to kill Mr Nisbet weeks earlier, motivated by a $250,000 life insurance policy.
They said they believed a suicide note she claimed to have was a forgery and supplied what they believed to be incriminating text messages and details of the life insurance policy.
Despite the fears, police would later rule out foul play and refer the death to a coroner as a suicide.
It wasn't until 18 months later that the coroner raised doubts over the sudden death and a homicide investigation was launched.
Miss Woodstock today claimed Milner had offered her and Mr Kearns a slice of Mr Nisbet's life insurance cash if they contracted a hitman to kill him.
"We were offered money once his life insurance would come through. But for us to get that money we'd have to pay a hitman five grand to kill Phil," she said.
Milner's eldest son, Greg Kearns, now a 24-year-old truck driver, told the court that a year or two before Mr Nisbet's death she'd asked him if the party pill Benzylpiperazine (BZP) would cause Mr Nisbet to have a driving accident.
He said he'd "taken a few" of the drug and since he thought it was an energy-type supplement, he told her he "didn't think it would" work.
The life insurance policy was mentioned to him by Milner, who said that if he managed to get rid of Mr Nisbet, he would get $20,000 of it, he told the court.
"I shrugged it off. I didn't take it seriously."
The trial, before Justice David Gendall, continues tomorrow.
PHIL NISBET'S 'FORGED' SUICIDE NOTE - THE DOUBTERS
* Lee-Ann Cartier - Mr Nisbet's sister
* Zak Bell - Mr Nisbet's son
* Vicki Andrews - Mr Nisbet's first wife
* Adam Kearns - Milner's son
* Kasey Woodstock - Adam Kearns' then partner
* Lance Anthony Connelly - Ms Cartier's son
* Ray Carey - neighbour and work supervisor
- APNZ