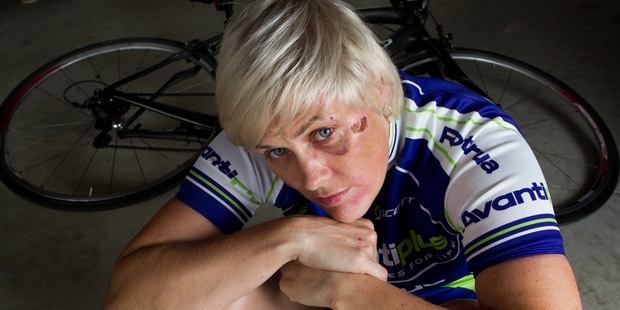 Carol Harwood bears a few bruises, her forearms are sore and there's a constant dull ache around her left eye, but she knows things could have been a lot worse had she not been wearing her cycling helmet.
The 36-year-old Rotorua woman was in an induced coma for two days after a crash with a pickup truck on November 27.
She was discharged from hospital on Tuesday and is making a rapid recovery. She will have surgery at Waikato Hospital on Monday to fix her broken cheekbone and eye socket.
"I'm quite grateful that fractures can heal," she said. "The brain can mend itself, but you don't know to what extent.
"It was a fairly expensive helmet. If I knocked my helmet that hard and there was no crack then it's done its job. Wearing a helmet saved my life."
Ms Harwood and her partner Sarah Pitcher-Campbell - both Rotorua Association of Triathletes and Multisport (Rats) committee members - were going out for a 45 minute ride as part of their final preparation for the Lake Taupo Cycle Challenge, which was on November 30.
The crash happened at around 6.30am at the roundabout intersection of State Highway 5 and State Highway 36 as the pair rode towards Ngongotaha.
"I don't remember leaving home," Ms Harwood said. "The next thing I remember is Friday morning when they woke me up and seeing [Rats president and nurse] Nina's eyes and feeling the tube come out.
"I was really worried and wanted to know why there were people inmy room at home trying to wake me up. Then I don't remember anything until the afternoon when people were visiting."
She said she has been humbled by the outpouring of support from the Rotorua community and beyond. She and Ms Pitcher-Campbell have received messages from throughout the country.
Because she couldn't ride in the Cycle Challenge, a figurine named Carol was attached to a fellow triathlete's bike.
"I've been told I have to beat the time that 'Carol' did this year," she said.
"I feel quite confident to jump on my bike tomorrow. Had I remembered everything I don't know [if I would]."
She is not allowed to do any form of exercise that could result in contact and yesterday began walking.
The only riding she will do in the next month is on her indoor trainer, wearing jandals so she can't go fast.
Rotorua police are investigating the crash and expect to lay charges.
- APN