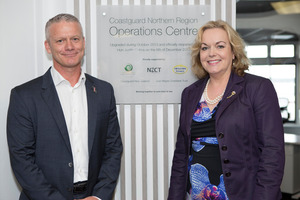 A new high tech operations centre has been officially opened at the Coastguard northern region headquarters in Auckland this morning.
Boasting state-of-the-art equipment the command centre was completed in time for the busy summer season. Its $700,000 construction bill was funded almost entirely by donations from the public and charitable trusts.
The operations centre acts as the hub of search and rescue activity across the northern region, connecting Coastguard with Westpac rescue helicopters and after-hours Surf Life Saving, as well as communicating with the thousands of boaties spending their leisure time on the water.
It has been expanded and upgraded, with the old technology replaced with modern digital systems. The technology is so up-to-date, the team have been visited by foreign agencies hoping to replicate the set-up.
"We've had a lot of Australian emergency services coming to have a look at the facility to try and duplicate what we're doing," said David Tommas, Coastguard northern region CEO.
"It safe-guards the marine community now for five to 10 years, which is important."
It was officially opened this morning at the Marine Rescue Centre on Mechanics Bay, but has been fully operational for around a month - and has already been tested.
"We've had a number of major incidents, we've already had a few fatalities this year, which is sad for us, but we've run some very big events already from this room ... and it's coped very well with that."
The operations hub is the biggest marine communications centre in the country, and handles around 110,000 emergency calls a year - one call every 23 seconds during peak times.
Justice Minister Judith Collins, who officially opened the centre this morning, said it was a "great Kiwi story".
"The fact that so many of them are volunteers speaks volumes for the culture we have here in New Zealand, they have a tremendous amount of fundraising that goes on and the fact that they are actually so successful is really from the fact they do such a great job and they're so well recognised in the community for what they do," she said.
"They're a great good news story for Kiwi-land."
Coastguard northern region president Roly Linstrom said the team were "thrilled" with the new centre.
- APNZ