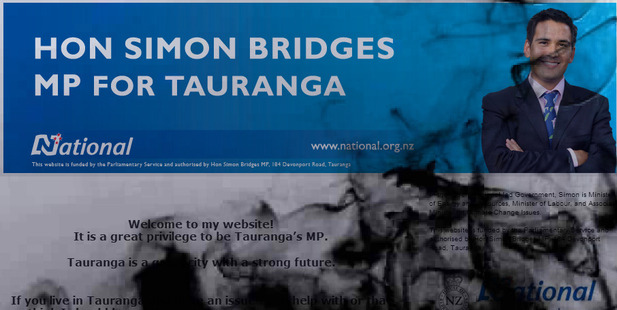 Energy Minister Simon Bridges has become the victim of a hoax website hack by Greenpeace activists opposed to oil drilling.
A replica of his website was created which appeared to have been hacked, with a black cloud swirling across the screen that left it completely black except for a message against oil drilling. The cloud represented an oil spill spreading across the sea.
A message, with a Greenpeace logo, directs people to a website against oil drilling, BigOilSpill.com
"That was just a bit of fun, but a real oil spill wouldn't be," the message reads.
"Drilling rights in the very deep ocean surrounding New Zealand are being sold off to big oil companies.
"Exploratory drilling has already begun."
However, the website - simon-bridges.co.nz - is a fake, with a domain name registered to Greenpeace in Auckland.
Mr Bridges' real website is simonbridges.co.nz, and appears to be unaffected.
Yesterday the minister announced he had awarded 10 new oil and gas exploration permits, which he said represents approximately $62 million in committed expenditure.
The granting of such permits has been controversial, and follow protests against deep sea drilling off the coast of Raglan.
In response to the hoax site, Mr Bridges issued a one line statement thanking the activists.
"I'm deeply flattered by all the money they're spending on promoting me before election year, but I reckon the billboard was better," he said.
Mr Bridges was referencing a Greenpeace billboard which was erected in central Wellington in July which accused him of misleading Parliament over a meeting with oil company Shell.
The almost 300 square metre billboard depicted a photograph of Mr Bridges with the words: "Simon Bridges Pants on Fire."
A similar website hoax occurred after Gareth Morgan launched his Cats to Go campaign earlier this year. A group called Cats Love NZ launched Cats 2 Go site, complete with a Photoshopped image of a cat, dressed in hunting overalls, carrying a gun and a dead animal with Mr Morgan's face.
It was initially believed Mr Morgan's campaign website had been hacked, before the real website owners were revealed.
- APNZ