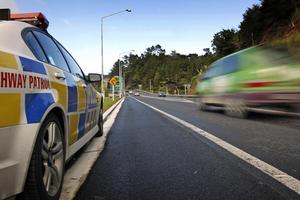 A man had to leap on to a car roof to avoid being run over by another car which subsequently smashed through a concrete power pole and careered into a Blaketown house, knocking it off its piles.
In the Greymouth District Court yesterday, Ruatapu man Bradley James Wall was fined $1500 and ordered to pay Westpower $5700 reparation for the pole after he admitted charges of driving with excess breath-alcohol and dangerous driving.
Wall, 21, was also disqualified from driving for 12 months.
The court heard that Wall had been drinking at a Blake Street property when he decided to go for a cruise about 8.50pm on November 9. He drove south as far as the Greymouth aerodrome and then turned, driving back along the street at double the 50km/h speed limit.
At the intersection of Reid Street and Blake Street the car started to fish-tail.
Wall completely lost control of it opposite the party house.
A man was sleeping in a car outside the party and another man had just opened the door when Wall's vehicle bore down on them. The man leapt on to the roof of the parked vehicle as Wall's car passed within 1m of it before bringing down live power wires, snapping the pole off, and then slamming into the house.
Wall and his two young passengers escaped with only minor cuts and bruises.
Lawyer Vicki Walsh said it was a case of "a bad thing happening to an otherwise good young man".
Wall was a "person of some integrity" who had not "ducked and dived his responsibilities" and had shown genuine remorse.
Judge Noel Walsh said Wall was lucky he had not killed or been killed.
"Your driving was reckless. A quick thought that rushes to my head is 'what if there had been a young kid on the road?' You and others are lucky to be alive."
- Greymouth Star