Auckland Transport expects new fleet will run every 10 minutes and carry 40 per cent more passengers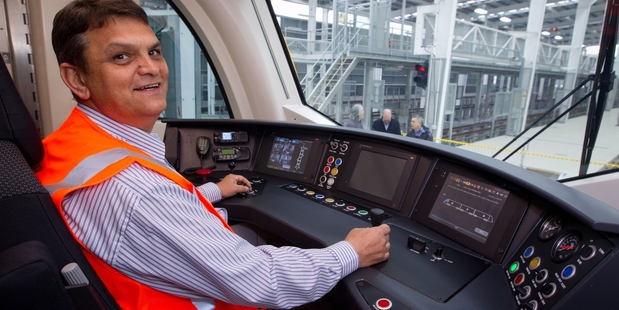 Ninety years after Auckland's leaders began hankering after electric trains in 1923, the city is poised to join the world of modern rail transport.
The first of a 57-strong fleet of electric trains has been undergoing closed-track trials at nights and weekends on the city's southern line, ready to start whisking passengers between Onehunga and Britomart by the end of April, at greater speed and comfort.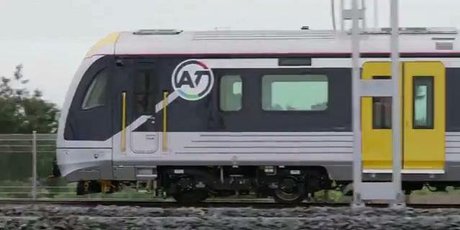 Trials are also progressing on a second train, and the pioneering pair will be joined soon on the tracks by a third, which arrived at Auckland Transport's new $100 million Wiri depot from its Spanish factory last week, ready for unpacking and initial checks.
That has enabled the council transport body to confirm an expectation that all the new trains will be running on all railway lines between Papakura, Swanson and Britomart by July 24, 2015, at 10-minute frequencies except for on the single-tracked Onehunga branch, which will host half-hour services.
Project director Lloyd Mayor says the first arrival from Spain has already performed superbly in extremely rigorous tests - to a top speed of 122.6km/h - to establish a benchmark for all its successors "and I'm pleased to report that these new trains are world-class in terms of the technology and benefits for passengers".
"Passengers are going to be very pleasantly surprised at how comfortable and enjoyable the new trains are."
The three-car trains will each carry up to 375 passengers - 40 per cent more than the existing diesel sets - and can be coupled up to move 750 commuters at a time.
Their cruising speed of about 90km/h, aided by faster although non-juddering acceleration and braking in and out of stations, is expected to shave 10 minutes off existing 53-minute trips between Papakura and Britomart.
Costs of maintenance and fuel, supplied by Transpower from two track-side substations and equating to an extra 1 per cent of Auckland's electricity demand, will be less than half those of the existing diesel fleet.
Quieter and emissions-free running will spur more intensive urban development around railway stations, and allow the trains to travel 3.5km underground at a steep grade through the city's proposed new $2.86 billion rail link from Britomart to Mt Eden.
The onus has been on the first train to prove the effectiveness of not just its own features, but also its interface with KiwiRail's $500 million track electrification and signalling upgrade.
That has included running video cameras on the roof to ensure electricity is flowing at the correct rate through connections with overhead power lines without sparks flying.
At the lower end of the technology curve, it has also included some No-8-wire ingenuity in the form of temporary polystyrene spacers protruding from each door to check platform clearances.
After years of delays in getting the $1.14 billion electrification project to the start line - past a change of Government in 2008 which sent funding arrangements back to the drawing board - trains are expected to keep arriving at a rate of two a month before deliveries double from the end of 2014.
KiwiRail has largely completed its share of the project, which has not only involved erecting 3500 masts to string overhead lines carrying 25,000 volts of electricity across 80km of railway tracks, but has also included a $90 million effort since 2009 to replace all points machines and signals with a computerised system capable of overriding drivers to cut power to any trains heading too fast towards red "stop" lights.
Infrastructure and engineering general manager Rick van Barneveld says the first electric unit's high-speed performance under new wires has been completed "without any issues".
"This is very encouraging for a new train and new infrastructure being introduced at the same time."
The rollout should come as a huge relief to commuters enduring bone-shaking diesel hand-me-down trains bought from Perth after the West Australian capital went electric in 1991, spurring a major increase in rail patronage from eight million passenger trips a year to more than 60 million.
It can't come soon enough for Auckland Transport, which was heading towards 11 million passenger rail trips in 2011 before dipping below 10 million last year.
Although patronage has since recovered slightly to 10.3 million annual trips, Auckland still has a long way to go to meet a challenge from Prime Minister John Key to demonstrate an ability to reach 20 million by 2020 if the Government is to pay for half of the underground rail link before then.
Auckland's new trains are arriving 75 years after Wellington began receiving the first of three generations of electric trains in 1938.