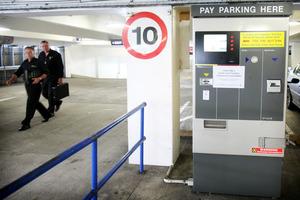 Thousands of dollars have been stolen from parking machines in central Auckland, police say.
At least 40 pay and display machines have been badly damaged in the thefts, costing an average $2000 each to repair.
The attacks have taken place on streets and in car parks in the CBD and inner suburbs, including Parnell and Remuera.
"The machines are owned and operated by Auckland Transport and, in terms of costs for repairs, the offending is taking a toll on the pockets of Auckland ratepayers," Inspector Vaughn Graham said.
Mr Graham said police believe the thieves are well-organised and could be posing as servicemen because some thefts happened during the day.
"This may involve the use of a commercial-style vehicle to assist in that ruse," he said.
"The people responsible will be trying to convert large quantities of coins into cash. Someone will know more about this offending and we are keen to have that information."
He asked members of the public to report all suspicious activity in car parks and note down vehicle registration numbers and descriptions of people.
"If it is safe to do so, consider filming or photographing the activity with smart phones and report to police," Mr Graham said.
Anyone with information about thefts from pay machines or about large volumes of coins being converted to paper money should contact Detective Sergeant Mark Franich on (09) 302 6949, or Crimestoppers, anonymously, on 0800 555 111.
- APNZ