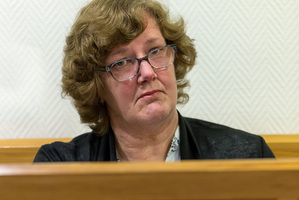 The first police officer on the scene of Phil Nisbet's sudden death raised concerns over the "convenience" of his wife receiving a texted suicide note in front of him, a court heard today.
Helen Milner, 50, denies fatally poisoning second husband Mr Nisbet, 47, and making it look like a suicide.
The Crown alleges she killed him, most probably by slipping upto 50 crushed tablets of anti-histamine drug and sedative Phenergan into his food, then smothering him with a pillow.
She then sent herself a text message purporting to be from her husband that read: "I'm sorry honey, I can't keep going on like this," the Crown alleges.
Today, at Milner's trial in the High Court at Christchurch, Sergeant Christopher Barker, said he called in his superiors when Milner turned on her phone and received the text while they were there. He thought the timing "convenient".
Mr Barker said he chatted privately with colleague Constable Grant Cowan and "raised some concerns about how things had been unfolding" at the scene.
They thought Milner's prolonged display of hysteria amounted to an "unnatural reaction".
Also, the house in Halswell, Christchurch, was "freezing cold", he said, and they wondered how she could have slept on the couch in such low temperatures, as she claimed.
Mr Barker also had concerns about how Mr Nisbet was found in his bed, on an angle.
Milner, a diabetic, had told them she'd been in bed until 2am when she got up to eat and administer some insulin before retiring to the couch.
Mr Barker said the bed "didn't look disturbed at all".
The Crown alleges Milner was determined to kill her husband and cash in a $250,000 life insurance policy.
On the first two days of her trial, the court heard she plotted the best way to do it, asking friends and workmates for views on poisoning methods, and offering to pay a hitman $20,000.
She asked colleagues if Mitre 10 sold rat poison and whether it would kill a person, the court heard.
Her statements were shrugged off by co-workers who joked behind her back about whether she'd put rat poison in the muffins.
"We thought the whole thing was a bit of a joke," one told the court.
Nicholas Rosewarne, another colleague at Christchurch-based grounds maintenance firm GSL, said the office administrator had "gloated" about an affair with "one of her truckie mates" while her husband was out of town.
The court earlier heard that new boyfriend Barry Hayton had moved into her home within a month of Mr Nisbet's death.
The Crown alleges she unsuccessfully tried to kill him on two occasions before succeeding on May 4, 2009.
Milner denies two charges of attempted murder and one of murder.
Despite the initial fears of the attending officers, police originally ruled Mr Nisbet had taken his own life.
However, after a coroner raised doubts over the death, a homicide probe was launched and more than two years later Milner was charged with murder.
The trial, before Justice David Gendall, continues tomorrow.
- APNZ