Man charged with causing injury while suspended and over booze limit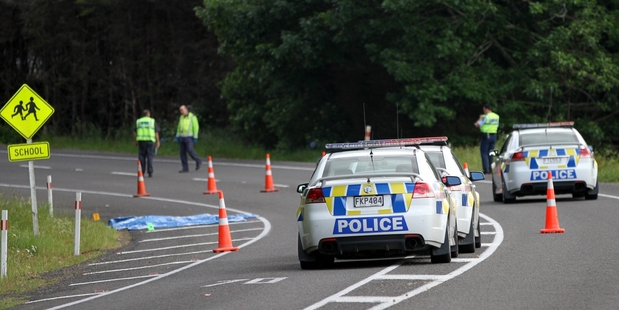 A teenage girl was walking away from an argument when she was allegedly run over by a drunken friend.
The 17-year-old is fighting for her life in Waikato Hospital after suffering severe injuries when she was struck by a car on State Highway 33 near Rotorua early yesterday.
A 19-year-old man, who police said was known to the victim, was arrested yesterday afternoon and charged with driving with excess breath alcohol, careless driving causing injury and driving while suspended. He is due to appear in the Rotorua District Court tomorrow.
Officers have asked anyone who heard raised voices or a disturbance in the area to come forward. Both teens lived near the scene of the crash, at Whangamarino northeast of Rotorua.
A witness reportedly heard shouting and said the girl had been walking away from an argument with the driver when she was run over.
Family and friends visited the crash scene yesterday.
CIB members have interviewed witnesses, but still want to speak to anyone who was travelling on SH33 between 3am and 3.30am near the Whangamarino School.
The incident prefaced an awful day on the roads, with another person killed and several critically injured in crashes across the country.
Just half an hour later in Dunedin, a teenager was trapped in a car when it smashed into a power pole at about 3.50am.
The crash, on East Taieri-Allanton Rd, "split the car in two", said ambulance communications spokeswoman Sharleen Murtha.
It took firefighters an hour to free the teenager from the wreckage and he was taken to hospital in a serious condition.
Later in the day, also in Rotorua, a 16-year-old male pedestrian was struck by a tourist bus and suffered serious head injuries.
A man died and another was seriously injured after a crash between a car and a truck in South Canterbury.
The men, aged in their 20s, were travelling in a car that collided with a truck shortly after midday at the intersection of State Highway 80 and SH 8 near Twizel.
The injured man was taken to Timaru Hospital.
Earlier, on Friday night, a man was critically injured when his car went off a bridge near Blenheim. Sharleen Murtha said it was fortunate that the car landed on a sand bar when it left State Highway 6 over the Wairau River.
The man who died after a three-car collision south of Levin on Friday has been named. He was Graham William Perry, 76.
- APNZ