Air pistols that look like serious weapons are being sold freely on the web for $39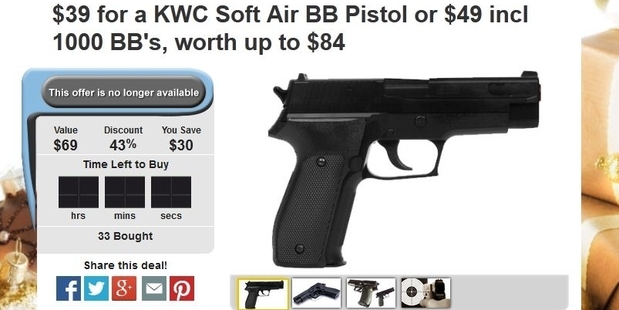 Police Minister Anne Tolley has ordered an inquiry into the sale of imitation guns on daily deal websites this week after a Herald on Sunday investigation.
The KWC soft air BB pistols, which are realistic replicas of the Sig Sauer P226 pistol, were sold for $39 to $49 on the Yazoom and getfrank websites last week. At least 33 of the BB pistols, which have no obvious replica markings, were bought by Kiwi shoppers before the deal closed.
Tolley is concerned about the imitation guns.
"That's why we have passed legislation, which is about to come into law, which places restrictions on their importation. I've referred this case to police, and I would urge the public to go to the police if they have any concerns."
The Arms Amendment Act, which comes into law on Wednesday week, restricts the importation of airguns that look like real pistols, military style semi-automatic firearms or restricted weapons. Importers of such airguns will need a police permit.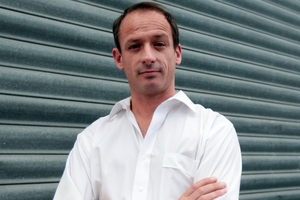 Police told her there was at least one incident a week where an imitation airgun was presented, which put the public at risk.
Inspector Jason Ross, the national manager of operational services, said police were investigating the websites' contents, and whether those selling the guns were licensed firearms dealers "which is a legal requirement for anyone selling such weapons".
Although such airguns are legally available for sale to people who meet the necessary requirements, they were not toys, Ross said.
"Police have attended many incidents where these so-called toys have been used to commit violent crime, or have been used to intimidate people, sometimes causing serious injury."
The replica ads on Yazoom included a note that no gun licence was required, but parental supervision was recommended for those aged under 18.
Auckland man Jason Ensor complained to both daily deal websites. Neither responded to Ensor, or to requests for comment from the Herald on Sunday.
Ensor said: "This product is offensive to be advertised among a bundle of toys online, as if it is just another toy to be played with. You have an additional upgrade to get 1000 bullets with it for $10." He was also upset Yazoom listed the replicas in the services section, rather than products. That meant the supplier was not identified. "It could be someone working from home and shipping these things in from China."
Ensor, 39, worried about youngsters with the guns. "There is no excuse for this product in New Zealand."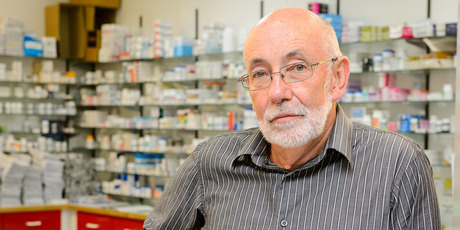 Gun thrust in daughter's face
Ross Howarth doesn't like to dwell on the moment he watched a robber point an imitation Glock pistol at his teenage daughter's face.
But it's not something you easily forget - or forgive. "I'm not a big one for emotion," Howarth said. "But I believe the police should have the right to shoot these people. I'm not a redneck but as soon as they use a weapon, and I know it is not a weapon as such, but they have lost all their human rights, because my understanding is they're prepared to use it on me. I want their heads blown off."
Howarth, his daughter and four customers were in Howarth's Wellington pharmacy when the robbery took place in 2008. David Alfred Haddon, 29, one of two men who entered the pharmacy, was sentenced to five years' jail when he admitted a charge of aggravated robbery.
The worst part of the robbery was seeing the imitation pistol pointed at his daughter, Howarth said.
"The trauma for me was my daughter. I spent a lot of time getting the robber to point the thing at me."
His daughter had coped all right, but customers were badly affected, including an elderly woman who was severely traumatised.