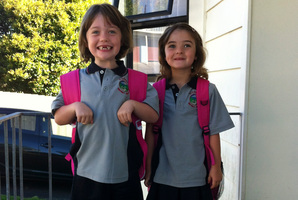 The sister of an Auckland woman killed by a drink driver said sending the man responsible to prison wouldn't bring back her sister.
Blair Alick McMillan was double the legal blood alcohol limit when his vehicle struck a car driven by 39-year-old TV3 staff member Rebecca Todd last December at the intersection of Muriwai Rd and Hamilton Rd in west Auckland.
He appeared at the Waitakere District Court for sentencing today after previously pleading guilty to a charge of causing the death of Ms Todd while drink driving, and two charges of injuring Ms Todd's two daughters.
Judge Lisa Tremewan sentenced McMillan to four years' imprisonment and disqualified him for driving for three years.
While most crashes involving alcohol were the fault of young drivers whose brains were still developing, as a man in his 50s, McMillan was old enough to know better, she said.
Judge Tremewan accepted his remorse as genuine, however she said "you have not lost a close relative or friend which would see you further suffer.''
It was clear his offending had taken "a huge toll'' on both Ms Todd's family - and on his own - and Ms Todd's daughters Brooke and Caitlin did not have the love and support of their mother as they recovered from their injuries, the judge said.
Caitlin had only just had her first full day back at school almost a year on from the crash, and Brooke apparently saw her mother die that night and would have to live with that trauma, Judge Tremewan said. "And these are the cold, hard facts.''
The packed public gallery, filled with Ms Todd's family and friends and McMillan's supporters, were visibly shocked and upset at the verdict.
Outside court Ms Todd's sister Roxanne McKerras said she was surprised by the sentence.
"He's already going to have to live with it. Sending him to jail's not going to bring her back.
"Maybe it sends a clear message to people as we're coming up to the Christmas season; don't get into a car [if you've been drinking]. The consequences are just huge.''
In a victim impact statement she read in court earlier, Ms McKerras said her sister's death turned her world upside down.
"It's hard to put into words how hard this has been for me. It's taken a huge toll on my family''.
`Bec' had a great presence and was a great mum, Ms McKerras said.
"The sad thing is there's now two generations of motherless daughters; Bec was three when her mother died.''
"Yes I'm p****d off, and yes I miss Bec every day.''
However, Ms McKerras pleaded for Judge Tremewan not to imprison McMillan, saying living with the guilt of killing her sister was punishment enough.
- APNZ