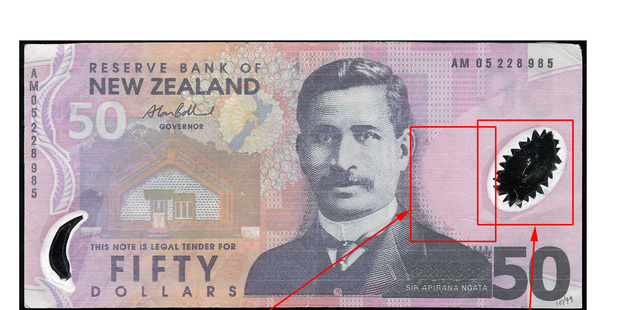 Police have issued a warning about bogus bank notes being circulated in Auckland.
The Counties Manukau Financial Investigation Unit said the fake notes, usually made of paper instead of the genuine water resistant polymer notes, had been surfacing recently in $50 and $100 denominations.
"Some notes that have been found are clearly not genuine," said detective sergeant Simon Beal.
Counterfeit notes were easily ripped, and felt different to the plastic-like texture of polymer.
They did not carry the signature watermarks of real money, nor the markings in the transparent windows.
While the fake notes had been found at a number of businesses throughout Counties Manukau, the problem affected the Auckland business community and wider New Zealand.
"The issue of counterfeit notes is ongoing, but we need to make it clear that knowingly passing a counterfeit note is a crime," Mr Beal said.
"If you know it is counterfeit and still pass it on, you are committing a serious offence that is potentially punishable by a lengthy term of imprisonment.
"People should always report to police if they think they have received a fake note, whether in business or given as change."
If you think you have received fake money, contact Counties Manukau Police Financial Investigation Unit on (09) 262 9121 or call Crimestoppers anonymously on 0800 555 111.
How to detect a fake bank note?
• A real note has ridges which are easily felt on the note.
• Real notes have two transparent windows. One has a fern on the left hand side and an ovoid shape which has the number of the denomination etched on the right hand side.
• Real notes are made of a tough polymer which is resistant to rips and tears. If the note you receive is torn its probably fake.
• Real notes have a shadow of the Queen of England between the person pictured and the ovoid transparent window. Holding the note up to the light will show the shadow of the Queen.
- APNZ