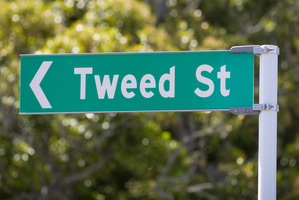 Auckland's street signs will be changing colour - but a council organisation says it was too "trivial" a matter to consult the public over.
"To consult on something as trivial as this could easily cost hundreds of thousands of dollars," Auckland Transport chief operating officer Greg Edmonds said last night.
His comment came after Auckland Transport's communications team refused to give a full explanation for a decision to replace blue signs with green ones throughout three of the city's seven legacy council areas in coming years, at $180 a time.
That followed word that the decision was actually made late last month, just days after the team blamed a contractor for acting prematurely in changing two out of three blue signs at a Glendowie intersection to green, the colour used in the other four legacy council areas.
Spokesman Mark Hannan said on October 17 that "it is expected to be the middle of next year before a final decision is made".
But yesterday he disclosed that an "executive" decision was made on October 25 to go all green - although by gradual process. "It will be done slowly and over many years with no additional cost to ratepayers.
"When a blue sign reaches the end of its useful life - for instance due to vandalism, fading, rusting - it will be replaced by a green sign." He said 63 per cent of the city's signs were already green.
Mr Edmonds said both colours were safety approved by his organisation's traffic control committee.
Orakei Local Board chairwoman Desley Simpson said the decision was "typical Auckland Transport" and she was disappointed not to be consulted.
"There wouldn't be a day goes by that our officers don't field calls around issues with Auckland Transport and the difficulty local boards have is that AT is responsible through the governing body, not local boards," she said. "If it's cost-neutral, it's got to be based on a factual reason and I certainly haven't been made aware of it. Auckland Transport has to learn how to communicate better - they are spending ratepayers' money."
Auckland Transport chairman Lester Levy said the colour choice was a management decision.