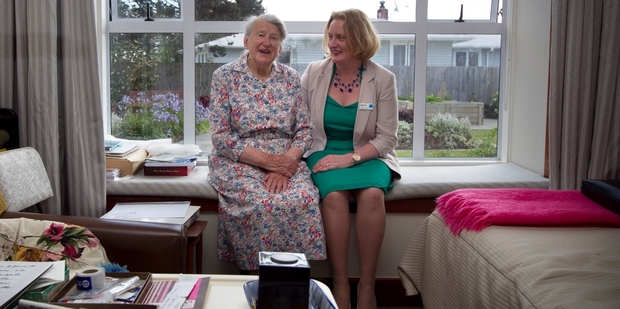 At 92 this year, Connie Bythell has had a full life. She grew up in Blenheim, trained and worked as a teacher, went to India as a missionary, and then worked in her home church in Lower Hutt until retiring at the age of 70.
She learnt the Marathi language in India and has had "a lot of connection with Indians" ever since.
Since her retirement she has been involved with the Manukau Hope Centre church, and was advised to go into a rest home because she has become blind.
"I didn't want to," she says. "I was sort of independent with Meals on Wheels and Presbyterian Support Enliven coming five days a week. They were excellent, I loved them.
"But my superiors recommended that I should be in residential care. I said I'm ready and willing to cheerfully do what you want me to do."
She moved six months ago into the former Culverden rest home, later called Pacificare, which was closed by health authorities in 2010, bought by Bupa and reopened in 2011 after a $3 million upgrade as the David Lange Care Home.
By coincidence, the 87-bed home incorporates an Indian retirement community. And Miss Bythell has found that she can still serve others there.
She helps "a young chap who takes a little church service here", and she plays hymns on the piano after meals.
"People clap," she says. "People come to me and ask me to pray for them."
She keeps up a lively correspondence with people she has known through her life.
"I got a letter last week from a girl in Madhya Pradesh (India). She said, 'I'm 58 now.' I knew her when she was 8," she says.
"I've been invited to go to Melbourne in January for the marriage of an Indian boy because I prayed for him all his life. He has paid my return fare."
Hope Centre members come every Sunday to take her out to church.
"I said to my pastor, 'How did I land here?"' she says. "He said the Middlemore assessor recommended that we try David Lange Care Home.
"I'm very happy to be in this home. I don't like being in a rest home, but I'm happy here."