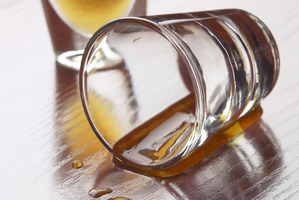 A university student had consumed a potentially lethal amount of alcohol before he was hit by a car and killed, a coroner has found.
Geoffrey Nicholas Peren was one of two young adults for whom Wellington Coroner Ian Smith today released findings into their deaths.
Mr Peren, a 20-year-old Victoria University student, was hit by a car when he was crossing a street in central Wellington on June 20, 2011.
That evening Mr Peren had been to a party and drunk a large quantity of spirits before leaving without telling anyone, Mr Smith said.
He called his Dunedin-based girlfriend Sophie Cartwright in a disoriented state about 10pm.
"Mr Peren seemed to think he was in Dunedin, but also seemed to be really lost and unsure of where he was," Mr Smith said.
"While still on the phone, Ms Cartwright heard a bang and then was unable to get any further response from Mr Peren, and soon afterwards she terminated the call."
Mr Peren was wearing dark clothing and was crossing against the pedestrian signal when he was hit by a car driven by Ms Cortez (eds: no first name given).
He suffered a serious head injury and died in hospital the following day. A blood alcohol test showed Mr Peren had a level of 305 milligrams per litre of blood.
"This is deemed to be clinically extreme and a potentially lethal level of intoxication," Mr Smith said.
Police initially charged Ms Cortez with careless driving causing death, but that was later withdrawn.
Mr Smith would not comment on the dropped prosecution, but said it was clear that Mr Peren's ability and awareness of what he was doing was clearly affected by the amount of alcohol in his blood system.
The second inquest found 16-year-old Tiana Oriwa Law was killed when the driver of the ute she was in lost control and she was thrown from the vehicle and suffered head injuries.
The driver, who cannot be named because of his age at the time, held a restricted drivers licence.
At the time of the crash, there were six young people in the vehicle - none of whom held a full licence.
The driver was dealt with by the Youth Court and was banned from driving for two years.
The crash happened on the newly resealed narrow and winding Maungakotukutuku Road, south of Paraparaumu on the morning of March 10, 2010.
A passenger in the vehicle told Mr Smith the driver had intended to "drift" around the corners and had accelerated into a turn.
The vehicle rolled, throwing Ms Law clear.
Constable Glen Marshall of the Wellington serious crash unit told Mr Smith there were no warning signs that the road had been resealed and the road was not swept of loose stone chips as it should have been.
The Kapiti Coast District Council had outsourced the work to Downer EDI Works, who subcontracted the work to the firm J & J Walters.
Downer EDI Works lawyer Adrienne Miller told the coroner there may have been a delay in sweeping the road because of the low volume of traffic on it; or there could have been confusion as to who would complete the sweep.
Mr Smith was concerned at the confusion by the parties contractually involved in the matter, but understood procedural steps had been put in place to ensure there was no confusion in the future.
He made no recommendations in the inquest.
- APNZ