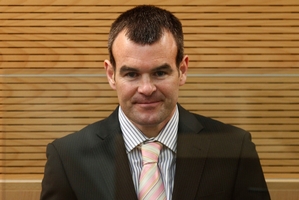 The employer who offered Ewen Macdonald a job on his release from prison admits he was apprehensive about Macdonald's criminal history but wanted to give him a chance at rehabilitation.
Macdonald, acquitted last year of murdering his brother-in-law Scott Guy, was denied parole on Monday for a second time.
During Monday's 75-minute parole hearing at Christchurch Men's Prison, the 33-year-old spoke at length about how he felt he had been rehabilitated in the 12 months since he was last denied an early release.
Macdonald, who was seeking an early release to a relative's address in Christchurch, said while in prison he had been on work placements doing forestry jobs, splitting logs and lawnmowing at locations across Canterbury.
He told the Parole Board a local employer had offered him a job on a handshake deal.
He had visited the proposed workplace several times and got to know his potential boss and future workmates.
But he didn't get the offer in writing, and the board's attempts to contact the employer were unsuccessful.
Macdonald told the Parole Board the man was overseas, and that he didn't want to push the matter while the man was on holiday.
Now, after tracking down the employer - who cannot be named - to Mexico, the Herald can reveal the job offer was genuine.
The boss confirmed he offered Macdonald a position at his business once he was released from jail.
He had taken on many ex-prisoners on parole over the years, but hadn't done so recently given "they are generally unreliable and often end up back out there, which is very disappointing after making the effort".
He said just 10 per cent of the ex-cons he had hired turned out to be a success, but also felt they came out of jail with little support and failure was often "inevitable".
But given Macdonald's strong work ethic and being a skilled machinery operator, and that the job he would have been doing was "out of the public eye", the man was comfortable offering him a job.
"With Ewen, I don't like the history but he has done the time that he has been found guilty of, and when he asked for a job, after a little while I thought of the vacant position I had," he said.
"With his farming background he's used to machinery and from my observations ... he's at a different level than most of the workers there. So with that I came up with that possibility for him."
The employer also said that Macdonald's public profile "did worry me a bit", but said that he felt it was an opportunity for him to start rehabilitation "back in the real world, which is difficult for most to handle easily".
Macdonald is halfway through a five-year sentence for a crime spree targeting neighbouring farms, which included vandalising a new home being built by Feilding farmers Scott and Kylee Guy, the slaughter of 19 calves with hammer blows to their heads, the theft and killing of two trophy stags, emptying a neighbour's main milk vat of about 16,000 litres of milk worth tens of thousands of dollars, and burning down a 110-year-old whare.
The Parole Board was not satisfied he no longer posed an undue risk to the safety of the community and parole was declined.
Macdonald will be seen again by the board next November.
- APNZ