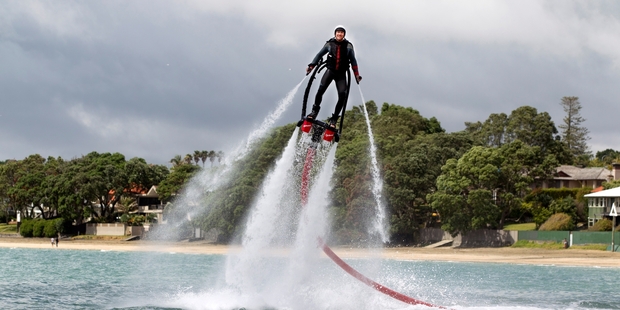 Auckland's run of summer weather continued yesterday, with the mercury closing on a record set only four days ago.
But it looks like being back to umbrellas today - rain and even thunderstorms are forecast.
MetService forecaster Philippa Murdoch said: "There could be heavy rain with that and some hail."
Auckland reached 26C yesterday, a shade below Saturday's 26.8C - the hottest November day since 1959.
For many, yesterday would have felt even hotter as the warmth was combined with high humidity.
Niwa principal climate scientist Dr Brett Mullan said: "If it's not humid you can perspire easier and get rid of the heat, but if it's humid as well it feels hotter."
Humidity made the air "stick to your skin" said Philip Duncan of Weatherwatch.co.nz, and meant yesterday's temperature felt like 32C.
The warm tropical air brought thunderstorms to the North Island yesterday, particularly in central areas. More than 1200 lightning strikes were recorded in the central North Island.
Among those cooling off was Aaron Ridgway, flying his water-powered jet pack at Takapuna Beach. The jet pack, known as a FlyBoard, works by using a jetski to push high-pressure water through a hose and out nozzles attached to the bottom of a board.
The user can then manoeuvre the device, which is secured to their feet, by changing the angle of the board - much like a snowboard.
Mr Ridgway, who bought the water-powered jet pack last summer, is the owner of Luxurytoys.co.nz.
He said using the jet pack was "like being a superhero".