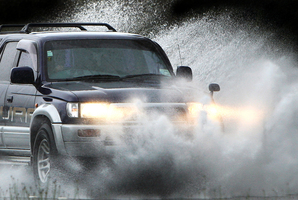 Thunderstorms will continue to threaten the North Island tomorrow as the hot, humid weather carries through to another day.
Extensive thunderstorms rattled the island today, particularly in central areas.
More than 1200 lightning strikes were recorded by MetService this afternoon, as a series of thunderstorms stretched out from Waikato to Taranaki and across to Hawke's Bay and parts of Gisborne.
Heavy rain accompanied many of the thunderstorms, with more than 30 millilitres of rain recorded in one hour just south of Gisborne, said MetService forecaster Chris Noble.
Rainfall measurements were not available for other urban areas, as the storms missed most of the major towns and cities, he said.
However, there will be little respite from the nasty weather, as thunderstorms look set to continue into Wednesday.
The Far North will see the first signs, with the storms spreading south later in the day towards the central North Island, including Taranaki and East Cape.
There will be a risk of severe thunderstorms later in the day, MetService forecaster Philippa Murdoch said.
"There could be heavy rain with that and some hail,'' she said.
Auckland will start off with showers which will develop into heavy rain and possibly thunderstorms later in the day.
It will be another warm and humid day for much of the North Island, with high levels of humidity making temperatures feel hotter than official readings would suggest.
Auckland recorded over 70 per cent humidity today, she said.
"It will be a similar sort of story tomorrow; maybe slightly cooler, fairly high humidity,'' Ms Murdoch said.
"This could drop off a little going into the next day [Thursday], but you probably won't notice a significant difference.''
A heavy rain warning has also been issued for Coromandel Peninsula, Bay of Plenty, northern Gisborne, Northland and Auckland from Wednesday afternoon.
The South Island will have a much more settled day, with only a little bit of rain predicted for the northern parts, and cloud elsewhere.
The West Coast and Southland should be mostly fine with only a few areas of cloud. Inland Otago and the lakes could see some afternoon showers.
Temperatures will be similar to what much of the South Island experienced today, with the mercury staying in the high teens and low 20s.
******
Main centres:
Auckland _ Periods of rain, possibly heavy and thundery, with northerly winds. A high of 23C.
Wellington _ Cloudy with occasional rain, southeasterly winds and a high of 19C.
Christchurch _ Drizzle at times, with fresh northeasterlies, and temperatures in the mid-teens.
Dunedin _ Cloudy with morning drizzle, fresh northeasterlies, and a high of 15C.
- APNZ