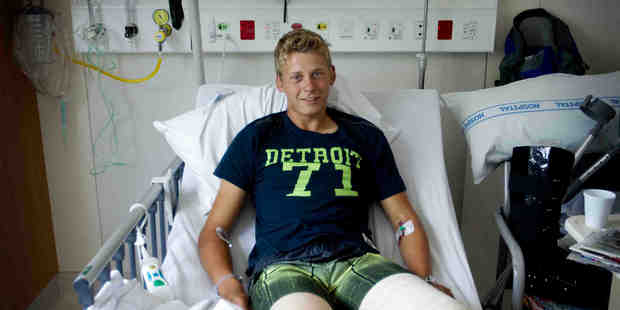 An Auckland man who helped rescue a "totally unprepared" German tourist who had slipped down Mount Ruapehu says the young man probably would have died had they not reached him when they did.
Scott Lowry was heading with his daughter Brya to the summit and stopped for a drink near the Knoll Ridge Cafe on Sunday when they heard Wanja Drees' cries for help.
"We weren't too sure if it was a couple of people yelling to each other," said Mr Lowry.
"I think the fourth time the yelling occurred Brya heard an SOS. I didn't actually see him at first but we saw him about 300 metres above the turnstile at the top of the Valley T-bar."
"He still had to traverse 300 metres across where the snow ran out to the Knoll ridge cafe but he wouldn't have got across. We had trouble walking across there."
The pair traversed across to the 19-year-old, who was hiking around the lower reaches of the mountain in shorts and sandshoes and was on his own.
They could see him sliding down a slope on his backside using his hands to push himself forward.
"He was totally unprepared. Initially we got him stabilised, we could see had been using his hands to get himself down the mountain and he was bloody cold because he had wet nylon shorts on."
"He was in trauma and in shock. It's easy to criticise but ....straight away we lifted him up and got some goretex underneath him and wrapped him in polar fleeces to take the chill out of him. We put a hat on his head and we stabilised him," he said.
Mr Lowry said Wanja was "incredibly lucky" as there was no-one else on the hill.
"He would have perished because the skies opened up on Sunday night and it was rather cold - I would suspect it would have got below zero probably minus 5 where he was in the snow."
"He was a pretty lucky young man but a foolish young man as well."