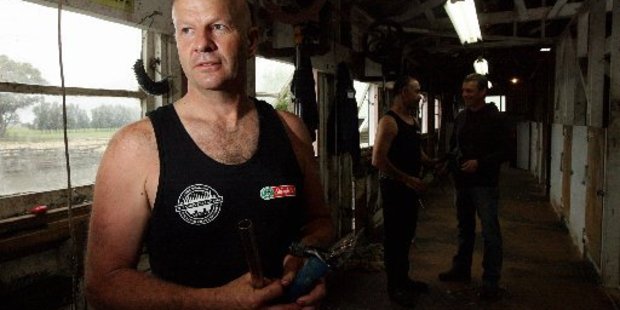 Is legendary Te Kuiti shearer David Fagan heading for a 17th Golden Shears open title?
The 2014 edition of the world's iconic shearing event is set to be held in Masterton from February 27 to March 1 next year and the 52-year-old Fagan sounded warning bells to his rivals that he will yet again be a prime contender for the major spoils when he chalked up open win number 621 at the Stratford A&P Show on Saturday.
Fagan's Golden Shears record almost defies description. In what has been labelled as tennis's equivalent to Wimbledon, he first won the coveted open title in 1986 and then from 1990 to 2011 he prevailed in the main event on 12 successive occasions. Hawke's Bay's John Kirkpatrick was the party pooper in 2002 but Fagan bounced back to score again in 2003, 2004 and, most recently, 2009.
Last year, Fagan failed to qualify for the open final for only the fourth time in some 30 years but anybody who thought Father Time had at last caught up with him would be having a serious rethink after his success at a Stratford show for which a startling increase in entries almost caught organisers unawares.
Former dual Golden Shears open title winner Paul Avery was among those administering the event - as well as defending the open title he had won there last year - and he conceded to going light on sheep numbers after an unanticipated decline in entries last year had him sending 150 sheep back to the farmer unshorn.
"I didn't want to have to do that again," said Avery, who also won a world title in Norway five years ago.
The folly was apparent from the start of the day on Saturday with more than 60 shearers entering across the five grades, and competitors were soon being told they had to be on the mark in their heats, because there wouldn't be enough sheep to hold semifinals.
The only semifinals held were in the open class, in which the cloth was cut by limiting the three-man final to 15 sheep.
This time, Avery was ninth in the open field of 12, which included four world champions, but he was not the only big name not to make the final, another being reigning world champion, Scotsman and Taranaki farmer Gavin Mutch.
In Fagan's case, he had not won a Stratford show title since 1994 - and his quest for victory became a match race with Waipawa shearer and 2010 world champion Cam Ferguson, who was first off the board by about four seconds as they both finished their 15 hoggets in under 12-and-a-half minutes. Fagan's marginally better quality gave him the winner's ribbon by 0.2 points, with a four-point margin to the only other finalist, Feilding shearer Murray Henderson.
"It was always going to be a privilege to be in the top three in that one," said Fagan, who while scoring just his first show-final win this season has won five single-sheep speedshear events, most with a prize of at least $1000.
Levin shearer Michael Rolston and Dannevirke-based Poverty Bay shearer Catherine Mullooly maintained their winning form from the Central Hawke's Bay show a fortnight earlier by claiming Saturday's senior and intermediate titles respectively, while Neil Bryant, of Levin, won his first junior title.
The only remaining North Island competition before Christmas is the Royal Manawatu Show at Feilding on December 8.
For more articles from this region, go to Wairarapa Times-Age