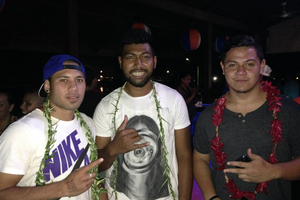 A night out in Samoa ended in tragedy for two Kiwi men who were killed in a car accident.
Aucklander Thesaurus Heather, 20, and Wellington man Jesse Risale, 21, died early last Thursday when the Land Cruiser they were in flipped several times in the village of Vailoa, Faleata.
The pair were sitting on the back of the ute at the time.
The driver, a 19-year-old woman, and another passenger sitting inside the vehicle survived. It is understood alcohol was a factor in the crash.
Mr Heather grew up in Auckland and is a former student of Otahuhu College. In April he went to Samoa for his grandmother's funeral and had been living there ever since. He was due back in two weeks to continue his studies in architecture at Unitec.
His adoptive mother, Debbie Sorensen, told the Herald the family were distraught with grief.
"It's a tragedy and it's about young people making poor decisions. It was entirely preventable and it's a waste."
Ms Sorensen said their family had taken Mr Heather in after his mother moved to Samoa seven years ago.
"He went through primary and high school with our son William ... we loved having him as a part of our family and we never worried about him because he was a very sensible and good boy."
Mr Risale's family is well-known in the Porirua community and was heavily involved in the local schools and in volleyball. He coached volleyball at Mana College - where he also represented the school in the sport as a student.
Yesterday Mana College principal Mike Webster said the school community was in mourning for a young man known for his big smile and wit.
"His family has been so loyal to our school for years. We're going to miss him hugely."
Both young men will be farewelled at funeral services this week. Mr Risale's body is being brought back to New Zealand, while Mr Heather will be laid to rest in Samoa, next to his grandmother.