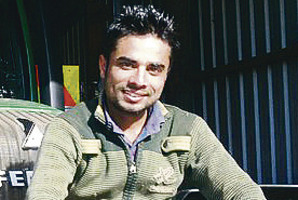 Two women accused of killing Indian national Amandeep Singh in Gisborne late last year have each pleaded guilty to a new charge of manslaughter.
And while a jury could be satisfied the pair wanted to give Mr Singh "a good hiding", there was not enough evidence of murderous intent, a High Court judge has ruled.
Crystal Louise Black, 25, and Krystel Therese Pokai, 24, each pleaded guilty to manslaughter and other charges in the High Court at Gisborne on Friday, via video link before Justice Heath.
The other charges are car conversion, theft (of Mr Singh's credit card), using a document (the credit card) to obtain an advantage and attempting to pervert the course of justice.
The pleas followed a successful application by Pokai's counsel John Mathieson to have them discharged on the murder charge.
They are in custody by consent for sentencing on December 16.
Mr Singh was last seen alive around midnight on December 29, 2012. His badly-decomposed body was found in bushes at Kaiti Beach about a month later.
In a written decision released today, Justice Heath said while a properly-directed jury could conclude the accused women intended to do serious harm to Mr Singh during an assault, the evidence seemed evenly balanced as to whether they knew what they were doing was likely to cause death.
A summary of facts says Pokai and Black had been living as a same-sex couple in Munro Street for about a year, along with Black's two children.
Pokai met Mr Singh, 22, when he stopped to offer her a lift home on December 28.
The next day Pokai and Mr Singh exchanged more than 160 text messages and three voice calls. In the afternoon Pokai went to meet up with Mr Singh at his house. She texted Black that Mr Singh wanted to have sex with her but that she did not want to reciprocate.
Less than an hour later, she called Black to collect her.
Not happy with the meeting, Mr Singh texted: "U jus fuk me around today and last nyt too. ... m luking fo gud relationship...anewaez thnks fr everything. Bye."
Later that evening, while drinking with friends at their home, Pokai and Black decided to entice Mr Singh there on the false premise that Pokai now wanted to have sex with him.
He arrived about 11.30pm.
One of their friends noticed the women were trying to hide the fact they were a couple.
The friend later told police Pokai alleged "the Indian fella had done something to her". The friend noticed the pair seemed angry.
After midnight, Black and Pokai went to Kaiti Beach with Mr Singh in his car. There, they assaulted him, causing fatal injuries, and dragged his body into bushes.
About 2am, they drove Mr Singh's car to Kaiti Mall, where they tried to access his bank account with his eftpos card.
Then they drove to Black's aunt's home and asked her to help them clean the car of fingerprints and other evidence. Her son later burned items from it, including a blood-stained cardigan.
When Black's aunt inquired as to what happened, Black said "he tried to rape my partner aunty, so we stole his car... he's at the beach". She said they had beaten up Mr Singh but he was still alive.
Later that day, Black contacted her former partner and told him she and Pokai "just killed a fella". Both he and the aunt reported it to police.
Pokai and Black were interviewed three times by police. First they denied the offending or ever knowing Mr Singh. Then they admitted knowing and assaulting him, with Pokai implicating Black's aunty as an accomplice to his demise - a statement she later retracted.
In Black's final interview, she gave yet another version of events - saying Mr Singh offered her and Pokai a cell phone if they kissed, but when they did so he went "psycho" and hit them. She described in detail their subsequent assault on him, saying Mr Singh was "jabbering and breathing" until he "went still... just slowed down... it was like he just gave up".
In his written decision, Justice Heath said a jury could be satisfied Pokai and Black's intention "was ... to give Mr Singh a 'good hiding'.
"The question is whether the evidence goes far enough to exclude the reasonable possibility that Pokai and Black assaulted Mr Singh without murderous intent. If not, only a charge of manslaughter could go to the jury."
Mr Singh's body was too badly decomposed for a pathologist to determine anything about the nature of his death.
- APNZ