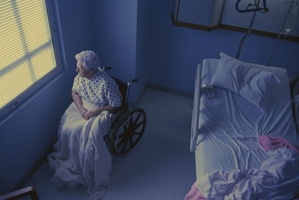 A caregiver says elderly residents at a rest home in the Wellington area were dressed again in dirty continence pads to save money on new pads.
The caregiver, who signed her name just as "K" and did not name the rest home, is one of 23 rest-home staff and family members of residents who have contacted the Herald so far today about our rest-home investigation.
She said the rest-home, which she left a month ago, "found it fine and dandy to make us put dirty pads on residents after we had done their evening cares as management were going over budget on the pads".
"If the residents were not soaking wet the pad was to go back on them. If they had faecal smears or marks it was told to us to put a liner in and leave the pad on them," K wrote.
She said the home also had "a major understaffing issue which prevents residents from actually getting their showers". Food was "overcooked and has no nutrients".
Are you or someone in your family thinking about moving into a rest-home? The Herald has compiled this guide for you to consider before you make your choice.
Other experiences reported so far include:
* An elderly woman rang her bell several times over a long period during the night but by the time someone came she had wet her bed. "Staff change her nightdress, then put her back in the wet bed. Several other instances, so much so daughter and others complain. Lawyers called in and story shut down."
* A delay of more than four hours before giving pain relief to an elderly woman because registered nurses were busy on their general medicines round and there were not enough nurses available to attend to the woman who was in pain.
* A woman was left with undiagnosed scabies for nearly nine months. A doctor diagnosed scratching due to medication. "My mother rolled on the carpet to ease the constant itching," her daughter reported. "It was horrible."
* An elderly woman was "bullied and threatened" if she needed help to go to the toilet at night when only three staff were on duty; "she also had her wedding and engagement rings and a gold necklace forcibly taken from her by a night staff member."
* An elderly man suffered repeated injuries falling out of bed but staff refused a family request to lower his bed.
* A caregiver at a North Shore rest home told an elderly woman's daughter that "Mum was being nasty to her and that if she wanted any lunch she would have to come into the dining room for it". The same caregiver told the woman to "get in the van and cross her legs" when she needed to go to the toilet while walking on a beach outing.
* An 89-year-old uncle had lost the ability to feed himself at a Wanganui rest home and was sent straight to hospital when his daughters moved him to Queensland's Gold Coast a year ago. "Now he is whizzing around the place in his electric cart enjoying the world. The big difference here is that they engage with the elderly and involve them in activities much more than in NZ. It is a wholly different approach."
* Residents in a villa who "except for one poor soul all looked zonked out with medication"; "one had actually fallen over on her side; the room stunk of urine."
* A rest-home manager "was heard bragging at a dinner party that she once used to milk cows and now she milks the Government. This suggests to me that there is sufficient money provided to the health organisations that are running the homes but they prefer to put profits over people."
* A rest-home worker said the home she worked in always knew when it was going to be audited and hand-picked who was allowed to talk to the auditors. "The whole place would change, everything was cleaned, all care plans and notes etc were updated and put in order.. some incident forms would disappear," she said. "Even the kitchen menu would change for the week (the food was just dreadful and an embarrassment to serve to people) but once it was over it would be back to serving the same budget crap again and everything would go back to normal."