Poorly equipped teen crawls painfully to raise help after 100m fall on Mt Ruapehu.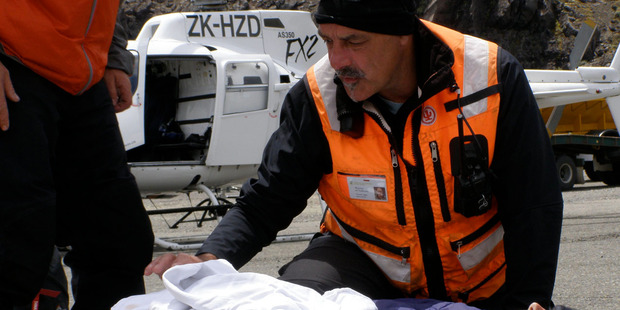 A teenager who fell 100m down Mt Ruapehu might have died if not for his quick thinking - and shoe laces.
The 19-year-old German, who has been working in New Zealand, was hiking above Te Heu Heu Valley on the northwestern slopes of the mountain when he slipped and fell about 11.30am yesterday.
Police estimate he slid down at least 100m of snow and ice before hitting an outcrop of rocks.
He smashed his femur, exposing the bone, and began to bleed heavily.
At the time, the mountain was all but deserted and the teenager was in an isolated spot.
He realised he had lost his cellphone as he fell and was forced to administer his own first aid before trying to get help.
"The male used his shirt to help stem the blood loss and managed to apply a makeshift splint by tying his legs together below his knees with his shoe laces," a police spokesman said.
Still bleeding and in immense pain, the teenager, who had not properly prepared to climb the mountain, then dragged himself downhill.
Another climber and his daughter were outside the Knoll Ridge Cafe en route to the summit when they heard the German's cries. They used their cellphone to call emergency services.
"While the male did exceptionally well to drag himself downhill far enough for his cries of help to be heard, he was unprepared and ill equipped for alpine conditions and only wearing street shoes," the police spokesman said.
Pilot Nat Every of the Taupo-based Greenlea rescue helicopter did not expect the teenager to have such severe injuries after he got the emergency call.
"It was one of those jobs, based on where he was on the mountain, that we didn't think there was anything in it. But when we got there, it started to develop a little bit."
Mr Every said the youth had dragged himself a fair way, but the helicopter could not land close to him. Incoming low cloud also meant Mr Every could not risk landing where he might not be able to take off again.
He dropped members of the Ruapehu Alpine Rescue Organisation as close as possible to the injured German and landed nearby.
"I initially thought the rescue guys had tied his legs together with his shoe laces, but he did. He was pretty chatty, but it would have been an unpleasant trip for him."
Medics applied a leg splint to prevent the muscles and tendons in the 19-year-old's leg from contracting as Mr Every flew to Rotorua Hospital.
He said the teenager was lucky. "He left a lot of blood on our gear. If the father and daughter hadn't found him ... it could have been very untidy."