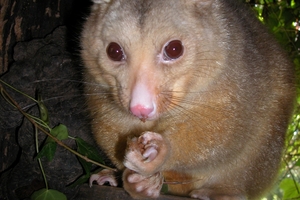 The Department of Conservation could be facing one of its worst possum infestations in decades, partly because workers who helped with pest control were sent to fight bushfires in Australia.
DoC fell short of its target for poison drops over the past year, which meant the conservation estate was less protected before a season in which conditions were expected to be ideal for the proliferation of possums and stoats.
Director-general Lou Sanson told Parliament this week that a plan to carry out pest control over 2832ha in Northland was cancelled because the department's forest firefighters were sent to battle Tasmanian bushfires in January.
Up to 40 workers were sent to Australia.
An operation in Haast was postponed because poor weather prevented access. And another in Fiordland did not take place because beech masting - the period every four to six years when beech trees produced much more seed than usual, leading to an explosion of stoat and possum populations - did not occur.
Possums eat new growth, compete with native birds for food, and sometimes eat their eggs or disturb nests.
Mr Sanson said that this year, beech trees were producing huge amounts of food for possums and controlling them would be difficult, especially in the South Island.
"It is a mast year this year, and it's one of the biggest beech seedings we've seen in 20 or 30 years ... we know we're going to have to do a lot more sustained control.
"I was at Arthurs Pass at the weekend and you could see all the puddles were full of beech seed ... It's the South Island beech areas that worry us."
DoC said it was taking advice on how it would respond and would try to do the very best with the resources it had. Officials said pest control was hindered by the cost of gaining consents for 1080 poison drops.
Mr Sanson said the pesticide was not as controversial as it used to be - many iwi were now encouraging its use - but the consent process was still long and expensive.
In a worst-case scenario, the cost of consultation, information campaigns, notifications, tests and getting permission from the Medical Officer of Health consumed half of the department's budget for a 1080 operation.
The Parliamentary Commissioner for the Environment, Jan Wright, who advocated wider use of 1080, has recommended that the process for allowing its use should be simplified.
Mr Sanson said: "Until we get a huge breakthrough in genetics or other forms of control, this is the best tool we've got."
DoC was also hoping that potentially ground-breaking pest control research would get further support.
Scientists at the University of Otago were trying to create "Trojan females", or female pests which produced sterile males generation after generation once their DNA had been altered.

What are mast years?
Every four to six years beech trees produce seeds at an unusually high rate. The increase in food sources leads to larger insect, mice and possum populations, and as a result, stoat populations which feed on the mice. Once a mast year passes, the mice and insect populations fall and the larger number of predators turn to native birds for food.