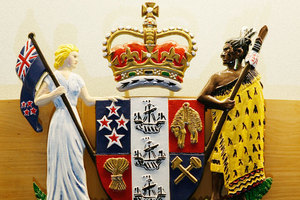 A Blackball drug dealer must pay the Crown $16,500 before he can regain ownership of his house, a Greymouth District Court judge has ruled.
The Crown had sought full, or partial forfeiture, of Eric Peter Vegneris's Blackball house after a jury had found him guilty in October of possessing cannabis for supply.
Vegneris, 50, was found in possession of about 2.5kg of cannabis with an estimated street value of $20,000 on May 8, 2012.
He was sentenced after the forfeiture hearing yesterday.
Detectives executed a search warrant on Vegneris's home while other officers simultaneously searched another Blackball home occupied by Bradley James Walker.
The raids were the culmination of a four-month-long drugs operation focused on the Dunedin Mongrel Mob Notorious gang.
In total, 8kg of cannabis valued at $98,000 was located in the operation, and six Mongrel Mob members from Dunedin were arrested, along with the Blackball pair.
Vegneris had a drying room next to a double garage, where a sheet of plywood on trestles held 2.1kg of cannabis head drying under heaters. Two small bags concealed in a wall each had about 40g of dried head and a basket inside the house held a further 275g.
Vegneris alleged that he had found the cannabis growing when he was setting possum traps on the Croesus Track and decided to steal it.
However, the jury did not believe him and Judge Alastair Garland said yesterday that jurors had good cause not to believe the story.
"You only 'found' the cannabis because you put it there in the first place. It was your cannabis, you grew it," the judge said.
"You had high grade cannabis for sale and that was consistent with what led police to get the search warrant in the first place, although the jury was not aware of that."
Judge Garland said it would place too much hardship on the Vegneris family if he took their home but he said it was appropriate that Vegneris be ordered to pay 20 per cent of his share in the equity (about $85,000) to the Crown.
He was also sentenced to nine months' home detention and 200 hours' community work. Judge Garland said the proceeds of crime payment allowed him to step back from a prison sentence.
During the home detention period Vegneris must abstain from illicit drugs.
If Vegneris does not come up with the money the Official Assignee has been instructed to sell the property, retain the $16,500 and pay him the difference.
- Greymouth Star