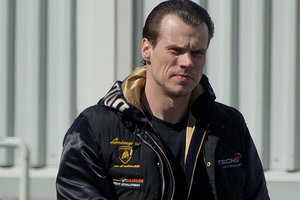 Rokas Karpavicius was the "mastermind" of an international drug money laundering operation, and gave orders to Auckland career criminal Ronald Terrence Brown, a court has found.
The Lithuanian national was today sentenced to six years and three months in prison, of which he will serve at least three years before he is eligible for parole.
During his trial, the court was told he supplied large quantities of drugs to the New Zealand market in collaboration with Brown, and employed human cash mules to launder the large sums of money being made and send it back to Europe.
He was found guilty last month of importing an LSD-laden Harry Potter book into New Zealand and money laundering, but not guilty of conspiracy and other drugs charges.
At the High Court in Auckland, Justice Graham Lang said he had "no doubt at all" that Karpavicius was "the guiding force and mastermind of the money laundering operation".
"This was obviously money laundering on a very large scale," he told Karpavicius.
"To produce such sums of money, considerable amounts of drugs would have to have been sold in this country."
The court was told that at least $2.2 million was involved.
Justice Lang said Brown, who is currently serving an 11 and-a-half year prison sentence for drug trafficking, "effectively followed your orders".
"I take you as the person who received the principle benefit of the funds that were taken out of this country."
Karpavicius' lawyer, Graeme Newell, had asked that the sentence be lowered because Karpavicius would have to serve it in a foreign country "with no support whatsoever".
Justice Lang agreed that this would be some hardship to him and gave him a six month discount.
"I do not feel that a large discount is warranted," he said.
"You have good grasp of the English language ... and I have no doubt that you have a confidence and a sense of self reliance that you will serve you well as you serve your sentence of imprisonment."
Justice Lang said it was important to impose a sentence that reflected the seriousness of the offending, and one that deterred other foreigners from seeing New Zealand as a place to conduct illegal activities.
"If foreign nationals think that New Zealand is an easy place to launder money through then it will be made prey to people who carry out that undertaking," he said.
Karpavicius was arrested late last year after an Interpol "red notice" alerted authorities as he travelled from Latvia to Turkey.
Detectives from the Organised and Financial Crime Agency of New Zealand flew to Latvia to collect and extradite him.
A High Court jury found him guilty of three counts of money laundering and of importing a Class A controlled drug, but not guilty of conspiracy to import a Class A controlled drug and not guilty of two counts of importing a Class B controlled drug.
The jury could not reach decisions on two other charges of importing a Class B controlled drug, which relate to the alleged importation of granite statues containing large quantities of MDMA, or Ecstasy.
- APNZ