Auckland drivers may involve other centres if their five demands are not met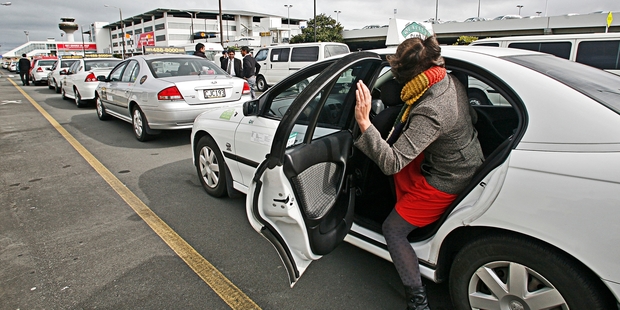 Disgruntled taxi drivers will consider a nationwide strike if their demands, which include raising the minimum price of fares, are not met by Auckland Airport next week.
More than 100 drivers walked off the job at the airport after a disagreement between a security guard and a driver last week, but the incident was the tip of deeper issues cited by the Auckland Taxi Association (ATA).
Drivers were concerned that the changes to taxi-rank locations, especially at the international terminal, meant they were missing out on fares and they now struggled to make a living.
At a meeting this week, ATA spokesman Manmohan Singh presented five demands to the airport: moving the rank where taxi companies pay for designated spaces so other taxis have better access to customers; improving relations with security guards; upgraded toilet, water and shade facilities; moving shuttle services; and increasing the price limit for short fares to $35.
Auckland Airport retail and commercial general manager Richard Barker said the facilities would be upgraded and security services were being reviewed, but the company had asked to wait until Wednesday to respond to the remaining demands.
"We made some real progress," he said. "We want to have a constructive work relationship with them, but also recognise that they don't represent all the members of the taxi-driving industry."
Mr Singh said the response would determine if another strike occurred.
"Our major demands were to relocate the delegated rank and relocate the shuttle which is taking away all the earnings ... (it's) hitting our survival which is making our living very hard."
New Zealand Taxi Federation executive director Tim Reddish said the national organisation had little to do with the industrial action.
"Sounds like there are just too many taxis at the airport," he said.
Mr Barker said travellers had an increasing number of options including bus, paid parking, shuttles and taxis.
He said swipe-card data showed fares from free-flow ranks were up 6 per cent at the international terminal and down 5 per cent for the year March to October, compared with the same period last year.
Taxis at Auckland Airport
* About 600 drivers from eight registered companies are licensed to operate from the airport.
* They occupy a designated rank and a free-flow rank.
* Drivers in the designated rank belong to companies that pay for the privilege.
* Free-flow ranks are closer to the terminal but designated ranks have fewer spaces so each driver collects more fares.
* Domestic terminal: Seven free-flow spaces and eight dedicated spaces.
* International terminal: 10 free-flow spaces and four dedicated spaces.
* Other transport options: Bus, shuttle vans, paid parking, drop-off/pick-up zones.