A gun woman watched over a three-hour dental procedure in Auckland yesterday in case the patient woke early from his anaesthetic.
Ngala - a 175kg, 11-year-old African lion - had a root canal operation at Auckland Zoo to repair a crack in one of his teeth.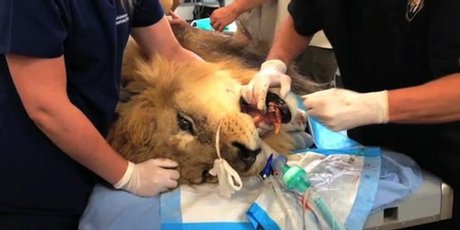 Specialist veterinary dentist Dr Russell Tucker, whose patients include tigers, orang-utans, African wild dogs and chimpanzees, said it was the largest tooth he had worked on and completed it using tools five times the size of those needed for great danes.
Dr Tucker said the $2500 procedure involved drilling a 74mm hole into Ngala's right mandibular canine tooth.
"We take out the nerve and the blood vessel and just replace it with an inert, root canal cement the same that is done with humans," he said.
Untreated, the cracked tooth would have developed an abscess and caused other medical complications leading to Ngala's death.
Auckland Zoo senior veterinarian James Chatterton said it took 38 times more anaesthetic to sedate Ngala than would be needed for a household cat.
He was also connected to gas throughout the procedure to keep him sedated, restrained with shackles on each leg and watched closely in case he woke early.
"We dart him with an anesthetic and once he is sedated we go into the enclosure and make sure that he is fully asleep, then put a tube into his windpipe and then we secure that in place and give him oxygen and anaesthetic gas so he stays asleep."
View photos of the procedure below: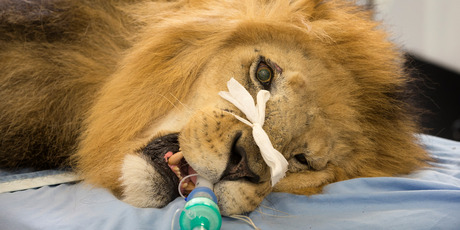 The chance of Ngala waking was remote, he said. It sometimes happened years ago, before anaesthetic gas was used.
He said Ngala, who was rescued as an orphan cub from the Kruger National Park in South Africa and came to Auckland Zoo in 2003, was recovering well from the operation.