Exclusive: Trio may not face court until 2015 over attack that left man badly brain-damaged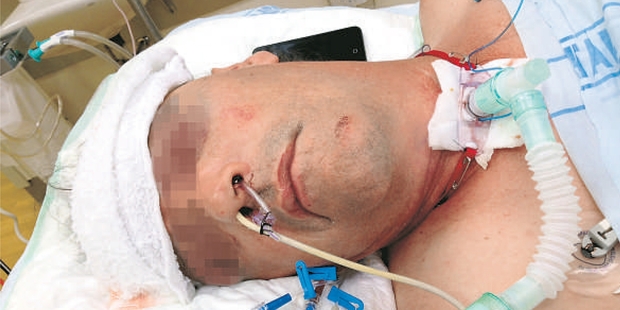 A woman whose innocent husband suffered severe brain damage in a near-fatal beating says she's "gutted" the trial of his alleged assailants has been put off until up to 30 months after the attack.
The Auckland woman said the build-up to the hearing, which had been due to start this week, had been "a huge emotional trauma and to find out at the 11th hour that it's not going ahead is absolutely gutting".
"There's a very, very high chance we won't go ahead until 2015. That's a long time to ... have this hanging over our heads.
"We're not asking to be made a priority. We're told over and over again this is a serious crime, serious charges, a serious case - so why can't we get to court? I just don't understand ... It's just crazy."
Her husband Mike was in a car in Pt Chevalier when he was attacked last November.
Every bone in his face was broken and he spent three weeks in a coma. When he woke, he did not recognise any of his family and spent months in a brain injury rehabilitation unit before returning home in April.
A trial for three accused was supposed to start in the Auckland District Court on Monday, but last Friday Mike's wife says she was told on Friday that due to the number of Crown witnesses, more time was needed for the trial than the court had allotted.
The next available date was August 11 next year, but that is only a standby date. If the trial does not go ahead then, it will be adjourned until May 2015.
Courts spokeswoman Sonja de Friez said the delay was driven by the unavailability of lawyers rather than judges: "The court was ready to hear this case."
Justice Minister Judith Collins and Courts Minister Chester Borrows said the delay was "totally unacceptable".
Ms Collins said her Judicature Modernisation Bill would help speed up the court process.
Mr Borrows said "everything possible" was being done to ensure the trial started next August. The protracted delay to reschedule the case was "not fair on the victims or defendants, and I doubt anyone would call this case taking almost two years at best a 'modern justice system'.
"We know there is a problem and we are kicking it as hard as we can but there is a pile of cases waiting to be dealt with and moving this is proving difficult.This is not a new problem, but it is one I am determined to turn around."
Mike and his wife, who fears reprisals and asked to remain anonymous, have been married for 18 years. He cannot remember their wedding or most of their time together, including their daughter's birth.
"I have effectively lost my husband ... He'll never be back," said Mike's wife. "Mike's described his life as like he's living in a fog. He says he is terrified of anything and everything but he doesn't know why.
"He knows that he was beaten pretty badly, but that's the extent of it. He's doesn't want to know.
"But he has said a couple of times, 'These guys have no idea what they have taken from me'. It's so sad."