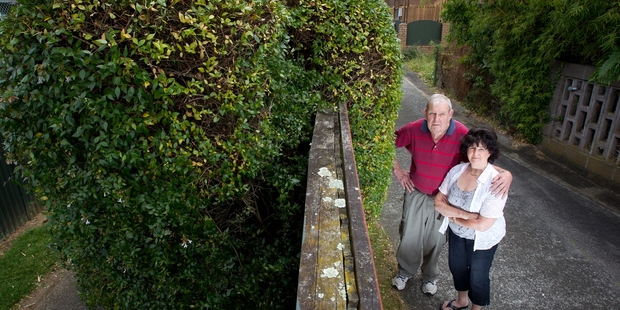 First it was berms. Now the Auckland Council has told an elderly Papatoetoe couple they must trim a hedge planted on council land between their home and a public walkway.
Angela and Peter Signal pay $250 three times a year to trim their side and the top of the hedge, which they have happily kept in order since buying the property in 1990.
The former Papatoetoe and Manukau city councils came to the party, trimming the council side of the hedge along the walkway to the Papatoetoe Centennial Pools.
The practice has fallen away under the new council and on Tuesday the Signals got a note in their letterbox from a council compliance officer about the overgrown hedge on the council side - just 50 minutes after a contractor finished the latest trim.
Mrs Signal said she rang the council and was told "times had changed" and that she - a 71-year-old with a double hip replacement - and 78-year-old Peter, who has a heart and lung condition, were now responsible for trimming the full hedge.
When she said she paid $2653 in rates and $750 a year to trim the hedge, she was told the council did not plant the hedge and was not responsible for it.
After explaining she and her husband had not planted the hedge, but had cut their part all these years and the council had cut its side, she said "there was no further point to this conversation so I hung up".
"Victimisation of neighbours who have actually bothered caring for their surrounds over the years is not on," Mrs Signal said.
She said the council had also stopped trimming a large oak on council land at the top of the walkway which impeded the couple's drive.
It has also stopped trimming a hedge and large trees on a grassed area of a carpark for the swimming pool. John Fallon, who lives over the fence, used to trim the foliage himself until his health deteriorated.
His wife, Muriel, said the council last trimmed the hedge and trees about 18 months ago.
A council spokesman said the complaint made to the Signals was being investigated.
Tell us your story: email newsdesk@nzherald.co.nz