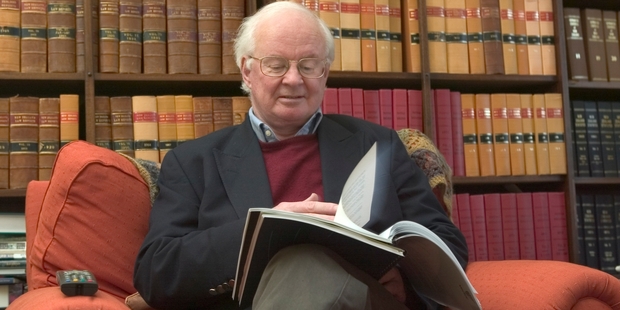 Former High Commissioner to London John Collinge hopes a legal victory which has seen the recall and destruction of copies of a book claiming he enjoyed a table-top romp at his official residence will put the "urban myth" to bed once and for all.
Former lover Barbara Stones' claim that the pair had sex on the dining table at the residence in London's Chelsea Square was made in a letter read out in court 15 years ago as she faced charges of harassing him and his new love Margaret Postlethwaite, who is now his wife.
The British and then New Zealand press had a field day and the story took on a life of its own.
"Naturally we were very upset at the line taken but we thought the facts were so obvious that nobody would really give it credibility," Mr Collinge told the Herald last week.
"People who know me know the story would be uncharacteristic behaviour and they don't see me as having any sexual prowess or anything like that.
"Of course we did deny it on many occasions and after the media frenzy died down, we tried to forget about it and get on with our lives and put it aside."
However, the story got a new lease of life late last year when Joanna Woods, the wife of former top-ranking diplomat and spymaster Richard Woods, published her book Diplomatic Ladies.
It included an entire chapter on former National Party president Mr Collinge's time as High Commissioner to London between 1994 and 1997, focusing on the messy love triangle.
The chapter closes with the comment that Mr Collinge had never denied the dining-table incident took place.
Mr Collinge said the chapter was "a very highly personal and comprehensive attack that raised matters as though they were true".
Mrs Woods' version of events and her "derogatory comments" were aired in articles about her book that appeared in the Herald, the Listener and even the Institute of International Affairs Journal, prompting Mr Collinge to take legal action.
An out-of-court settlement was reached this year which resulted in what Mr Collinge says was "an unreserved apology" from Mrs Woods.
Her book has been recalled by publisher Otago University Press, pulped and reprinted without the chapter about Mr Collinge.
However, Otago University Press publisher Rachel Scott told the Herald that following the settlement, fewer than 100 copies were returned.
"Once they're sold, we can't get them back. It was only a matter of recalling them from libraries and shops."
Mr Collinge said given that so many copies of the book remained, "I don't have any means of correcting the record other than, I suppose, by the media.
"What I'm really trying to do is at least put the urban myth that developed to rest."
He freely admits he was in a brief "exploratory" relationship with Ms Stones before his appointment as High Commissioner in 1994 but ended it before he left for London.
However, Ms Stones followed him to London "totally unbeknown to me and unannounced".
"I accepted her as a friend, then I began to realise that the reason she was there was that she wanted to become Mrs High Commissioner.
"She complained, for instance, about being treated at one or two functions as a guest and not Mrs High Commissioner. So immediately I sort of realised and that was the end of that.
"A man has the right to say no, in the same way as a woman."
Mrs Woods was unwilling to comment, citing a confidentiality clause in the settlement with Mr Collinge.
Ms Stones, who recently returned to New Zealand, did not wish to comment either.