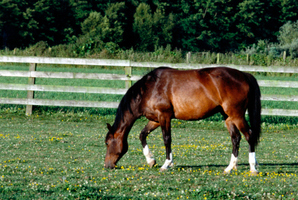 The son of a former Wellington mayor died from severe head injuries after falling off an untrained horse, which then fell on top of him.
Andrew Bernard Prendergast, 30, a horse trainer, died in March 2011, 10 days after the fall.
He was the son of former mayor Kerry Prendergast.
The well respected equestrian was helping to train a horse named Banjo at Waikanae Park, Wellington, on the morning of his death. He was wearing an old tattered helmet.
It was the first time he had worked with the horse, who had gone through two previous trainers, as well as becoming too much for its owner who had been thrown off the young horse.
Owner Lisa Wilkinson had bought the horse as a foal, and was hoping to train it for competitive sport. However, evidence to the coroner suggested it had not been properly broken in and had not received enough training.
Mr Prendergast's training session with Banjo had started off relaxed, but after the horse was frightened by a dog, Mr Prendergast had been forced to jump off for his own safety.
Later a second scare caused Mr Prendergast to fall off the horse, which then rolled on top of him.
"Our attempts to stop the horse from pulling out were unsuccessful and Andrew went to the left with his hands still on the reigns," Ms Wilkinson said in her statement to the coroner.
Banjo then fell over to the left, and she could not see Mr Prendergast anymore.
The horse then jumped up and ran away.
Ms Wilkinson said at first she thought the trainer was uninjured and trying to get up from the ground, but then she realised he was taking a fit.
His helmet had also been thrown off, and she later found it with a broken harness and the stitching had come apart.
Later examination of the helmet found it was "far too old and degraded to be safe for riding horses".
Jacqui Grannetia of Te Horo Equestrian Centre, who inspected the helmet, said Mr Prendergast had been teased by other riders about the condition of the helmet, but he insisted on wearing it because "it was special to him" and had belonged to a valued friend.
Evidence given to coroner Garry Evans suggested Banjo should not have been ridden because he was not properly broken in.
Its previous trainer, Tania Ashby, said she had been "angry" when she discovered after four sessions that "she had been put on such a green and untrained horse", and told Ms Wilkinson to employ a professional horse breaker.
Mr Prendergast was flown to Wellington Hospital and immediately taken to the intensive care unit, where they fought to save his life.
He had multiple bruising on both sides of his brain and on his brain stem, which doctors said would likely leave him in a persistent vegetative state.
After a number of days on life support, his family decided to bring him home to die surrounded by his loved ones.
Mr Evans said he was "uneasy" about whether Mr Prendergast knew the horse's full training history.
"It is clear on the evidence that there was a long way to go before Banjo was broken in. He was skittish and shied easily," he said in his report.
"On all the evidence before the court it does not appear that Banjo had received the level of training that Mr Prendergast may have understood he had."
He continued: "The court is unable to know whether, had Mr Prendergast been furnished with a more complete and accurate history of Banjo's training to date, he might have adopted a more cautious approach towards Banjo's ongoing training and, in particular, whether he might have acted differently after he had been forced to jump off Banjo on the day he so sadly died."
Mr Evans ruled the cause of death was cerebral haemorrhage secondary to head injury sustained when Mr Prendergast, from Peka Peka, on the Kapiti Coast, fell from a horse, which then fell on him.
- APNZ