After refusing twice, Auckland Transport tells unhappy customer it will reimburse her.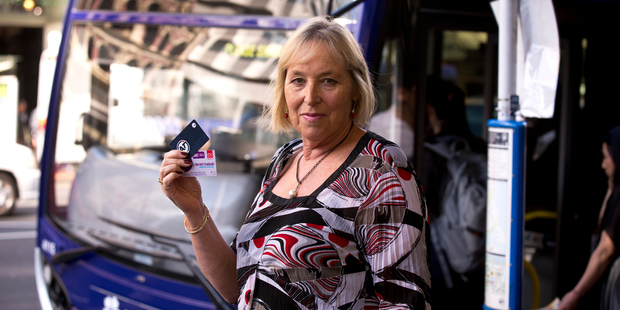 Auckland Transport has backed down over refusals to reimburse a woman who loaded more than $50 on a Hop bus card two days before the card became redundant.
The council body says passengers with "e-money" credit left on their old Snapper Hop cards have until February 1 to transfer sums of $10 or more to new AT Hop cards being introduced on Auckland's bus fleets.
If their balance is under $10, they will have to top it up to that amount before they can transfer credit at ticket offices and certain retail outlets.
North Shore commuter Sherry Hare had been dismayed to be told passengers with prepaid bus trips left on their Snapper cards could not be refunded.
"Unfortunately, we cannot consider a refund as our card supplier Snapper has a no-refund policy," the transport body told her on Friday, in the second of two refusal letters.
Ms Hare, who works in central Auckland, loaded $50.40c on to her Snapper card on October 11 for 10 four-stage trips without being told North Star buses were due to switch to the new $100 million ticketing system just two days later.
It took her prepaid balance to just over $55.
She apparently missed the transport body's "ambassadors" spreading the word at bus stops because she travelled to work before they started their morning duties.
"As you can imagine, I am a very unhappy customer," Ms Hare told the Herald, before the newspaper took up her case with Auckland Transport.
Another bus passenger, with $60 of unused trips on his Snapper card, said even three weeks' unofficial notice of a likelihood his Mt Roskill route would switch to AT Hop cards this weekend was not enough for him to run down his credit in time.
But after the Herald was told by the Ministry of Business, Innovation and Employment that the "standard of care" required of suppliers of public transport services might not have been met in all cases surrounding the Hop switchover, Auckland Transport's communications general manager Wally Thomas promised to reimburse Ms Hare and review other cases "on their merit".
"On the balance of reasonableness ... of course we will refund and, if she would prefer, load the money on to a new AT Hop card for her," he said.
"Clearly Sherry missed the extensive customer messaging."
The development comes as NZ Bus prepares to extend AT Hop machines to the rest of its 300-strong central Auckland Metrolink fleet this weekend, after converting the first half a fortnight ago.
Its southern Waka Pacific and western Go West fleets are due to follow next month, and other companies will convert to AT Hop early next year.
Auckland Transport has been reluctant to supply set dates for transfers, after having to delay last month's North Star rollout at the last minute for technical reasons.
It is advising passengers to carry both types of Hop cards until all NZ Bus fleets have been converted.
Wrong Hop, so boys walk
Auckland's main bus operator is in hot water with council transport officials after two schoolboys were refused rides because they had outdated Hop cards.
Mt Eden resident Erica Hussona was furious after her sons, 11 and 13, had to walk the final 2km or so home from school because the driver of an Outer Link bus refused to let them board.
Ms Hussona says that was because they were carrying Snapper Hop cards, and neither she nor their Remuera school, St Kentigern, had been notified that Outer Link buses were among those that swapped to Auckland Transport's new $100 million AT Hop system early last week.
Operator NZ Bus referred an inquiry to Auckland Transport, which said it intended taking the matter up with the company.
"In a general sense, there has been extensive publicity of the changes and customers were given a two to three-day grace period," said spokeswoman Sharon Hunter.
Passengers stuck with Snapper Hop cards were offered free rides from Monday to Wednesday last week. Ms Hussona's sons were refused travel on Thursday.
Auckland Transport communications general manager Wally Thomas said Ms Hussona had not signed up for information updates.
On the cards
Bus fleets covered by AT Hop - Urban Express, Birkenhead Transport, North Star, half of NZ Bus Metrolink services.
Next moves
Second half of Metrolink fleet to be converted this weekend.
Go West, Waka Pacific - next month.
Other companies, including Northern Express operator Ritchies, and Howick and Eastern - early next year.