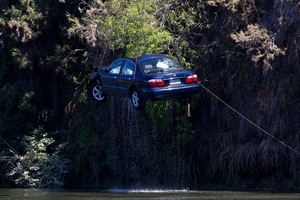 The family of a man who was run over by his partner outside a Hamilton superette have thanked bystanders for their "courage and kindness'' during the ordeal.
The man, a 43-year-old Hamilton glazier, was yesterday in a stable condition in Waikato Hospital with family members at his bedside. The incident happened just before midday on Sunday in front of shops on the corner of Ohaupo Rd and Normandy Ave.
The woman, who is having a psychiatric assessment, fled the scene and drove her car over a cliff and into the Waikato River but was hauled to safety.
A spokesperson for his family said relatives wanted to acknowledge the courage and kindness shown by people during what they described as ``a tragic incident''.
Hamilton Detective Senior Sergeant Ross Patterson said investigators were reviewing security camera footage of the incident and appealed for further witnesses to come forward.
"While this is going on our investigators are also interviewing witnesses and this is expected to take a few days.
"It may be that there are other people who saw what happened who are yet to have been identified by police and if you are one of these people, we would like to hear from you.''
The car was recovered from the Waikato River and was undergoing an examination today.
"The driver of the vehicle is yet to be interviewed by our investigators and a decision on what, if any, charges will be laid will not be made until the examination of the car and interview with witnesses have been completed.''
A friend of the injured man, who asked not to be named, said he was a gentle soul who was shocked and devastated by what had happened.
He said the couple had been in a volatile on-and-off relationship for about four years.
The friend said the man sought help for the woman's behaviour in the past without success.
"He's been struggling for quite a while with it. He's quite a big man but he's a gentle man - he hasn't got a violent bone in his body. He told me he was just trying to help her.''
The friend said he often sounded scared or shaken on the phone and he had become isolated from his friends and family.
His family and friends told him to leave "but obviously she had some kind of emotional hold on him''.
"Because he is quite a gentle, kind of caring man he was just trying to do right by her.''
The woman was discharged from Waikato Hospital on Sunday with minor injuries.
The Herald understands she was admitted to the Henry Rongomau Bennett Centre for psychiatric assessment.