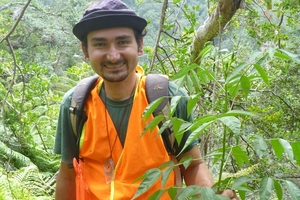 A Romanian man who disappeared while volunteering with the Department of Conservation on a remote island is likely to have slipped and fallen into the ocean, a coroner says.
Mihai Ioan Muncus-Nagy, 33, went missing while taking water samples on Raoul Island, in the Kermadec region, in January last year. His body has never been found.
An inquest into his death concluded in Auckland this morning.
His widow, Kinga, travelled from their home country to attend proceedings.
Coroner Brandt Shortland reserved his decision, but indicated that he was likely to find Mr Muncus-Nagy had slipped off a platform on an area known as Fishing Rock and into the rough seas, and had not been swept off by a large wave as previously thought.
Yesterday the inquest heard evidence that the waves that day were not big enough to threaten the platform.
"Most likely Mihai has slipped off the rock and fallen into the water, and that would have caused real panic," Mr Shortland said.
"For New Zealanders who spend a lot of their lives around beaches and water that would have been a difficult situation. It takes real training to overcome the fear and anxiety that comes with it."
He said while Mr Muncus-Nagy had not followed proper procedure on that day - by not taking a radio with him and failing to sign the board to notify other DoC staff and volunteers where he was - it was common practice by many on the island.
"The likely issues have been addressed in terms of how the department now looks at it, but at the time that's how it was and that's how things operated," Mr Shortland said.
"There's only so much management one can put into things until such times as you have a tragedy or disaster like this that it gives you time to reflect and look at change."
Earlier the inquest heard how an investigation by the then Department of Labour had found a number of failings in DoC's health and safety approach on the island, about 1100km northeast of Cape Reinga.
Last year DoC acknowledged it could have done more to prevent the tragedy, and the department was convicted of failing to ensure his safety.
Yesterday numerous DoC staff outlined the changes and health and safety strategies which have been put in place, including requiring all staff and volunteers on the island to undergo water safety training, as well as carry GPS trackers.
Senior staff broke down in tears giving evidence at the hearing yesterday as they apologised directly to Mrs Muncus-Nagy for her husband's death.
"They have taken Mihai's death very hard, and to me that's the mark of two men that are serious about their staff and their work," Mr Shortland said today.
Mr Muncus-Nagy was one of four volunteers helping three DoC staff monitor seismic and volcanic activity and conduct conservation work to protect the more than 100 plants native to the Kermadecs.
He had been asked to carry out duties only DoC staff were permitted to undertake because the team on the island was one member short, the inquest heard yesterday.
The official report into his death is expected to be released before Christmas.
- APNZ