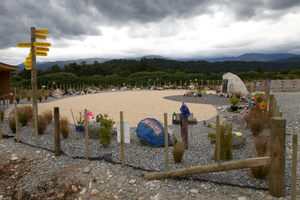 Families to lay wreaths to mark anniversary of Pike River explosion that killed 29 men

The third anniversary of the Pike River mining tragedy will be marked today with a minute's silence and the laying of a wreath.
Families of some of the 29 men killed in the explosions will gather at the West Coast coal mine, where work to re-enter the 2.3km mineshaft is expected to continue as usual.
Many will also gather at the Pike River memorial site, where a wreath-laying ceremony will be led by the miners' union this evening.
Bernie Monk, the spokesman for many of the victims' families, said they would pause for a moment's silence at 3.44pm - the time when the first explosion ripped through the mine on November 19, 2010.
The families had grown stronger every year since the tragedy, he said.
"But the will of wanting to find out what happened and get their men home is still as strong as it was on the day when they found out that they were dead.
"There's two ways of looking at it - the strength that the families have got now is unbelievable, but the sorrow is still there and the wanting to get them home is still there." He said there were some positives, including work to re-enter the mineshaft and legislation, passed last week, that would address the recommendations of the royal commission of inquiry into the tragedy.
The laws would bolster the Mines Rescue Service, pave the way for new mining health and safety regulations, and set up a stand-alone health and safety regulator, Work Safe NZ.
Mr Monk said the changes were a start, but more needed to be done.
Grey District Mayor Tony Kokshoorn said the tragedy was still raw after three years, but families and the community were working their way through the grief.
Today would be a quiet day of remembrance, without a major public service, he said.
"As a community, we're trying to do it in a sensitive way for the families' sake. The fact that the bodies are still up there in the mine makes it a little bit harder, but there is progress," said Mr Kokshoorn.
Families mostly acknowledged the chance of recovering the miners' bodies was now slim. "They grapple with that, depending on which family you're talking to. Some have moved forward well but others, it will be timeless."
- APNZ