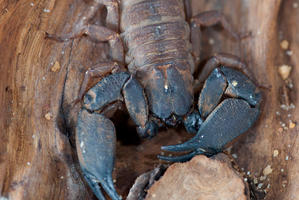 Two brothers were yesterday sentenced to 150 hours' community work and two months' community detention by Judge Kevin Phillips in the Queenstown District Court, after previously admitting charges relating to the possession, sale and disposition of scorpions.
Matthew Stuart Grant, 22, of Queenstown and James Alexander Grant, 24, of Arrowtown, faced two charges each under the Biosecurity Act 1993.
Defence counsel Sonia Vidal said the distinguishing factor between the Grant brothers and Iszac Walters, of Sydney - who imported the scorpions and will be sentenced next month - was the brothers "were not actually involved in the importation ... nor did they seek for those scorpions to be imported".
Walters imported the six black rock scorpions into New Zealand via Christchurch International Airport in February.
All six were given to James Grant, who later supplied four to Matthew Grant. He sold two to Mason Anthony Brookes, who is to be sentenced next month, for $300.
Ms Vidal said the brothers had been "extremely naïve" in their approach to the situation.
While Judge Phillips said by boiling, crushing and then burning the scorpions after discovering Biosecurity was aware of their existence, they had destroyed evidence.
Ms Vidal said they had "killed the animals, so that the risk was gone".

Neither of the men had previously appeared before the court.
Judge Phillips said while they were not "scorpion smugglers", they had been prepared to take the scorpions - whose removal from Australia was prohibited - and the likelihood of the creatures escaping and causing "all types of issues" was high.
Each charge carried with it a maximum penalty of five years in prison, or a $10,000 fine and Judge Phillips said it was set up to protect New Zealand from invasive species being brought into the country "unlawfully and surreptitiously".

Had any of the scorpions been pregnant and escaped there was no way of knowing what the impact might have been on New Zealand's flora and fauna.
In sentencing the men, he took into account mitigating factors, including their previous good character, guilty pleas, that they had not imported the scorpions, and to a certain extent their offending was "opportunistic".

"You two men are diligent, industrial and you'll end up being good citizens.
"My duty here is deterrence ... to bring it home to you and the community and any other person approached by importers of any type of creature ... that the court will take a strong handle on it."
Both were also ordered to pay $1000 each towards the cost of the prosecution.