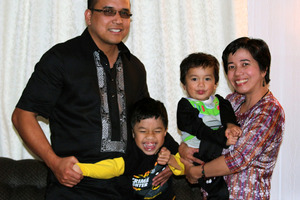 An Auckland family that has been waiting to hear news of their elderly mother - who was missing after the deadly typhoon in the Philippines - is overjoyed to hear she has been found alive.
The Maga family, of New Lynn in West Auckland, have spent the past week bracing themselves for bad news after seeing photos of the destroyed city of Tacloban, where their 70-year-old mother and grandmother lives.
Dennis Maga said his wife, Amie, had become distraught after seeing pictures of the apartment building her mother, Ernesta Dural, stayed in.
Ms Dural's apartment was totally flattened by Typhoon Haiyan and there were reports that up to 1000 bodies had been found in the apartment wreckage.
But late last week, the family was contacted by a volunteer on the ground who happened to come across a plea that Mrs Maga had posted on Facebook.
Mr Maga told the Herald today: "The volunteer saw Ernesta's photo and recognised her. They located her and she was well and okay, but wanted to get out.''
Mr Maga said they had not been able to speak with his mother-in-law yet, but the volunteer had told them she had escaped by going with a group of people to a neighbour's two-storey house, made out of concrete.
"They took refuge there during the typhoon and luckily, survived. She was with about five other people.
"We were so happy - crying and very overjoyed.''
Ms Dural is now in nearby Tanauan city, in Leyte, but is among the thousands of people crying out for help.
Mrs Maga is set to fly to the Philippines, on Wednesday, in a bid to get her mother out of the area.
Typhoon Haiyan: Donate to aid operations