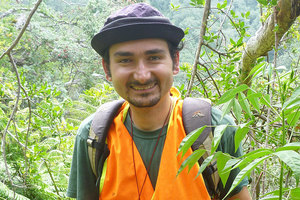 A number of Department of Conservation staff broke down in tears as they apologised for failings which contributed to the death of a volunteer on a remote island.
In emotional testimony at the inquest of Mihai Ioan Muncus-Nagy, 33, which began in Auckland today, a ranger and two senior managers all struggled to compose themselves while giving evidence.
Mr Muncus-Nagy is presumed dead after disappearing on Raoul Island, in the Kermadec area, in January last year. His body has never been found.
His widow, Kinga, flew from their home country of Romania to attend proceedings this week.
Mr Muncus-Nagy was one of four volunteers helping three DoC staff monitor seismic and volcanic activity and conduct conservation work to protect the more than 100 plants native to the Kermadecs.
A late withdrawal of a DoC employee meant he was asked to help undertake duties which only staff were permitted to carry out, as he had experience as a ranger in Romania and was deemed to have the necessary skills.
He was presumably swept off an area known as Fishing Rock while taking water temperature readings early one morning by himself and without a radio.
Paul Rennie, the head DoC ranger on Raoul Island, said he had taken Mr Muncus-Nagy's death personally and had made a promise to himself to ensure health and safety on the island was improved.
Dressed all in black and still wearing her wedding ring, Mrs Muncus-Nagy also broke her steady composure when Mr Rennie neared the end of his evidence.
He spoke about how he considered her husband a friend, developing a close bond over a short period of time. He was also among those who led a recent memorial service in which a plaque was placed at the site of Mr Muncus-Nagy's death.
"I feel selfish in saying this has been the most difficult time of my life, especially when it bears no comparison to what Mihai's family have to go through every day," he said.
Sean Goddard, then DoC's Auckland conservator which also placed in him charge of the Kermadec region, apologised directly to Mrs Muncus-Nagy.
"I'm sorry that we weren't able to deliver Mihai home safely from what would have, and should have, been an absolute experience of a lifetime for him - undertaking conservation on the far side of the world.
"I wish he had taken his memories back ... to his family. He should have been able to tell those stories to any future grandchildren," Mr Goddard said.
"I feel sad about that and I apologise for that."
Moments earlier Mr Goddard said his department "should have done more" to ensure Mr Muncus-Nagy's safety.
DoC pleaded guilty last year to failing to ensure the volunteer's safety, and spent much of today's proceedings outlining the changes it had made since his death.
A number of DoC senior staff gave evidence detailing the health and safety procedures now in place on the island, and how training and recruitment had changed.
However, Mr Goddard said he did not know whether wearing a life vest would have saved Mr Muncus-Nagy's life that day as it has never been established exactly what caused his disappearance.
It is presumed he was somehow swept into the sea, but evidence to the inquest heard how waves that day were not big enough to threaten the platform on which the workers took water readings from.
One of the DoC staff on the island said life jackets and water safety equipment were stored in a shed close to Fishing Rock, but they were "not specifically" provided for water testing and nobody wore them while carrying out that duty.
The inquest, in front of Coroner Brandt Shortland, will continue tomorrow.
- APNZ