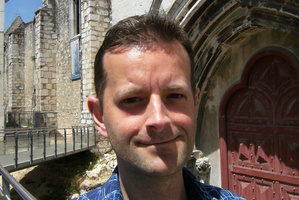 The family of a slain reporter has lashed out at the justice system for the "powerless" position victims are put in during the court process.
Radio New Zealand bulletins editor Phil Cottrell was killed in the early hours of December 10, 2011, while he was walking home from work along Boulcott Street in central Wellington.
Mr Cottrell, who had brittle bones as a result of a genetic condition, suffered a shattered skull and broken bones after he was punched to the ground and kicked or stomped on.
His killer, Nicho Alan Tamati Waipuka, was found not guilty by jury of his murder, but guilty of manslaughter.
Waipuka was sentenced by Justice Forrest Miller in the High Court at Wellington last December to 12 years and 10 months imprisonment, with a minimum non-parole period of eight and a half years.
His teenage co-accused, Manuel Robinson was acquitted.
Today, Waipuka appealed the length of the sentence at the Court of Appeal.
Outside court, Mr Cottrell's sister Sue Hollows said she and her husband Heath wanted to appeal the manslaughter verdict, but there was no provision to do that.
"We wanted to for Phil's sake."
She and her husband were "just powerless witnesses".
"You can't appeal, but they can."
Ms Hollows said she was shocked when the jury came back with the manslaughter verdict because she was convinced they would convict Waipuka of murder and he would be given an automatic life sentence.
The fact that Waipuka had appealed the sentence showed "a complete lack of remorse" for his actions, she said.
"He's oblivious to the lives he's destroyed."
Mr Hollows said they had prepared themselves for the appeal process after sentencing.
"It was inevitable because of such a strong sentence."
In court, Waipuka's lawyer Paul Paino argued against the sentence length and said the minimum non-parole period should have been half the prison period rather than the three-quarters that was imposed.
The fatal attack on the 43-year-old happened very quickly and with little premeditation, he said.
Mr Paino told the court the assault lasted about eight seconds.
"I accept that it had to have been violent."
But he said there was no long-term planning involved by his client.
"It was random violence. There was only a short time for any planning and pre-meditation," Mr Paino said.
Justice Miller had a starting point for sentencing of 15 years, which was "streets ahead" of similar crimes and should have instead been 10 years, he said.
Crown prosecutor Annabel Markham said the judge's starting point reflected his assessment of Waipuku's culpability.
"This is an appropriate case for a stern approach."
The incident was "very close" to murder and was carried out for recreation and robbery, she said.
Ms Markham disputed the short premeditation time and said Justice Miller felt Waipuka went into town "for the express purpose of looking for violence and knock someone out".
Justices Tony Randerson, Raynor Asher and Paul Heath reserved their decision.
- APNZ