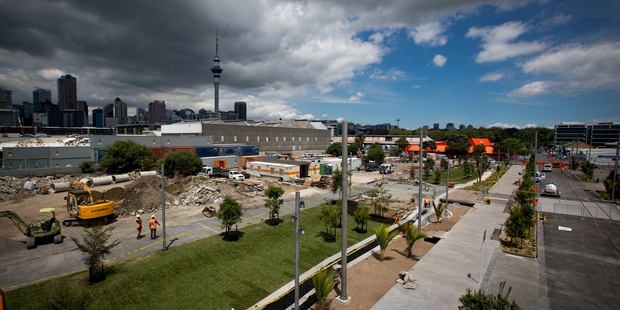 A kerbless street, planted in native trees and flanked by sculptured lawns and rain gardens to collect and clean stormwater, is the latest offering about to open at Wynyard Quarter on Auckland waterfront.
A piece of former industrial land has been transformed and will eventually provide a continuous, north-south link from Victoria Park to the east-west public waterfront space along Jellicoe St.
The first section of the link, down Daldy, St will open to pedestrians, motor vehicles, trams and cyclists at the end of the month. The street will have a speed limit of 30km/h in keeping with the principle of favouring people over cars at the new waterfront location.
The section - between Pakenham and Madden streets - cuts through the Wynyard Central precinct for which Waterfront Auckland will soon name the successful partners for a new development of housing and commercial buildings.
Construction of the first 100 to 150 apartments is expected to start in late 2015.
Waterfront Auckland development manager Rod Marler said Daldy St would have the same high-quality standards as Jellicoe St, including more than 2000 native shrubs and plants from a nursery owned and run by Ngati Whatua o Orakei at Bastion Pt, planted over a 400sq m area in the first stage.
"As people move from the large formal layout of exotic trees of Victoria Park and Franklin Rd to the water's edge, we wanted to introduce some of the lush indigenous vegetation that once lined the nearby shores," he said.
The 4m wide footpaths are flanked by rain gardens to collect and clean run-off before it enters the stormwater system, a meandering path of sculptural lawns, trees and gardens, new seats and park furniture.
The second stage of Daldy St, from Madden St and past the fish market to Jellicoe St, will begin in the New Year.
The first stages and a similar upgrade along Halsey St to the east are part of a $29 million contract being undertaken by Hawkins Open Spaces.
Work in Daldy St between Fanshawe and Pakenham Sts is being done by Auckland Transport, which has started work in concept designs.

Waterfront boulevard
• First stage of north-south boulevard to open this month
• Features more than 2,000 native trees and shrubs, wide footpaths, rain gardens
• Kerbless street with 30km/h speed limit
• Second stage of boulevard to connect with existing waterfront space begins next year
• No start date for Victoria Park end of boulevard