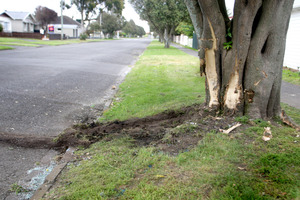 Three people have been killed on the roads this weekend, including a young woman who crashed into a tree after fleeing from police in Wanganui.
The 21-year-old woman died after crashing into a tree and two men were killed when their 4WD vehicles rolled on rural roads yesterday.
The crashes have prompted police to reiterate their message for drivers to take care on the roads.
"We urge all motorists to drive to the conditions and bear in mind their speed, distance and don't drink and drive,'' police said in a statement.
"Police will continue to work with their partners to reduce fatalities, road traumas, serious injuries and hospitalisations.''
The most recent fatality came after a police pursuit in the Wanganui suburb of Gonville last night.
The 21-year-old learner driver died instantly and six passengers were injured when the car crashed into a tree at an intersection about 11.45pm.
Central District police commander Superintendent Russell Gibson said the woman had been stopped by police and processed for excess breath alcohol earlier in the evening.
"She was forbidden to drive for 12 hours and her car keys were also taken off her and held at the station until a sober person could retrieve them,'' he said.
"The woman has somehow got hold of another set of keys later in the evening and driven her vehicle.''
The two-minute pursuit started after a police patrol spotted the car on Gonville Ave and suspected it was being driven by an intoxicated driver.
The patrol car activated its flashing lights and siren but the driver failed to stop and sped up.
Police said the highest speed reached during the pursuit was 90km/h - almost twice the posted speed limit of 50km/h.
The pursuit continued for 2.5km along several streets before the driver lost control as the car went around a bend.
The driver was killed instantly when the car hit a tree.
One front seat passenger and five passengers in the back suffered moderate to serious injuries injuries, none of them life-threatening. They were being treated at Wanganui Base Hospital.
The police serious crash unit was investigating and the Independent Police Conduct Authority has been advised.
Earlier, two men died when their vehicles rolled in separate accidents on rural roads yesterday.
A 40-year-old Kaiapoi man was killed when his 4WD vehicle left the road and rolled on Spencerville Rd, north of Christchurch, about 5.10pm.
Constable Glen Alder said the driver, the vehicle's sole occupant, died at the scene.
The police serious crash unit was investigating and the death has been referred to the coroner.
A man in his mid-30s died when his 4WD rolled multiple times and crashed into a power pole on the Kaipara Coast Highway shortly after 3pm.
The police serious crash unit closed a stretch of State Highway 16 near Kaukapakapa while a scene investigation was carried out.
- APNZ