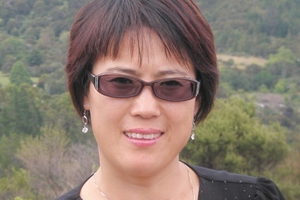 A photo of the knife used to kill a Wellington mother-of-two has been released as the homicide investigation into her death continues.
Rongmei Fan, known as Mei, was brutally attacked in her Miramar home last Friday, hours after dropping her children off to school.
Her body was discovered by a friend two days later.
Wellington police have released a photo of the 32-centimetre knife with a wooden handle with the word 'CARVER' stamped into the base which was used to kill Ms Fan.
Detective Senior Sergeant John van den Heuvel said while the image of the knife may be upsetting for some, knowing where it came from was key to finding the person responsible for killing Ms Fan.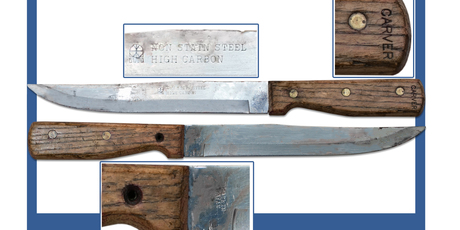 "The knife could have come from anywhere so we want people to take a close look at the photo to see if they recognise it.
"It is an older knife that may have been part of an estate, sold in a garage sale or been donated to a second-hand or charity store, it reminds of the knife set my parents had in their cutlery drawer, many years ago."
Ms Fan was killed on November 8, sometime after she was last seen dropping her children off at Miramar Central School, police believe.
It is thought she took a short route from her Brussels St property to the school, along Park Rd, between 8.30am and 9am.
The 37-year-old died from multiple injuries consistent with a violent attack, Mr van den Heuvel said earlier this week.
"It is clear that this was a brutal and vicious attack that has taken the life of a young mother," he said.
A team of 20 police officers had spoken with people travelling through Brussels Street, Park Road and Tauhinu Road area yesterday morning between 8am and 9am - a week on from the last time Ms Fan was seen alive.
A specialist police search team had also been scouring the area for any sign of a disguise police believe the killer may have worn to gain access to her house.
They were among a 40-strong team of police experts, including investigators and forensics, working on the murder case - dubbed Operation Brussels.
Members of her family will be arriving in New Zealand this weekend. Police had worked with relevant authorities to fast-track visa requirements, and the family will be assisted by Victim Support upon their arrival.
"The assistance provided by the public to date has been very useful and I continue to encourage anyone who has any information to come forward," Mr van den Heuvel said.
A dedicated 0800 number and email address has been established for the inquiry - 0800 348 348 or operationbrussels@police.govt.nz.
A 58-year-old Strathmore Park man, who knew Ms Fan, has been arrested for breaching a protection order against her.
He appeared in the Wellington District Court this week and was released on bail. The man was granted interim name suppression until his next court appearance next month.
A court charge sheet said the man had allegedly sent the woman correspondence sometime between Thursday and Sunday.
- APNZ