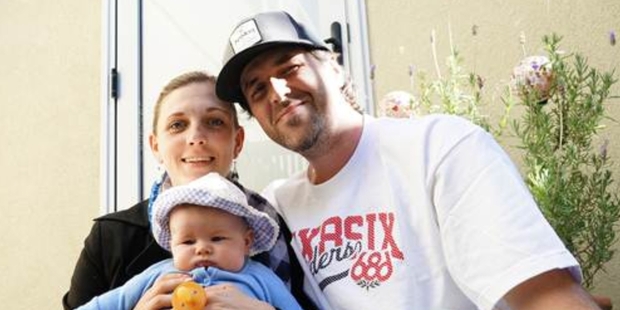 A 5-month-old girl born with half a heart will benefit from donations from local fashion designers and suppliers.
Lily Mathilde Leadbetter was born with hypoplastic left heart syndrome - a rare congenital heart defect in which the left ventricle of the heart is severely underdeveloped.
After only 32 hours in the world, Lily underwent eight hours of open-heart surgery at the Starship hospital, and at little more than three months of age she had a second such operation.
Now back at home in Wellington, Lily's parents, Veri Klingler and Adam Leadbetter, have been trying to raise money to buy a Pulse Oximeter Machine, in order to measure and monitor Lily's oxygen saturation and lower the number of trips to the hospital's emergency department. The machine costs $1600.
Their plight prompted Mr Leadbetter's cousin Ruben Bryant, owner of Wellington boutique fashion store Good as Gold, and his partner, Ashlee Laine, to send an email to local fashion designers and suppliers, appealing for donated items they could auction off.
Ms Klingler described the response as amazing. "We were surprised about it, but yeah, it's awesome. Family helping out is always good."
Lily will need to undergo another open-heart operation when she is 2, or earlier if her condition deteriorates, Ms Klingler said.
She would also need a heart transplant if she made it to the age of 5. There was only a "50/50" chance of that, her mother said. "It's not something you can fix."
Thirty years ago, children with Lily's condition would have already died, Ms Klingler said.
"We're still very lucky; there are still babies they can't help."
Mr Bryant said raising a small child was hard enough "let alone not knowing how she's doing day-to-day".
"This just gives them a bit more peace of mind to get through it all.
"It was pretty amazing what came in. It was super generous," he said.
A total of 41 items were donated, from labels Wunderkammer, Zora Bell-Boyd Jewellery, Deadly Ponies, Kowtow, Meadowlark, Just Another Fisherman and others.
Some jewellery items donated were valued at more than $500, while the Deadly Ponies clutch bag retailed for $610.
The total retail value of all the items was $7900, Mr Bryant said.
Any money raised above the $1600 needed for the oximeter machine will be donated to the @Heart Foundation, a non-government-funded charity which supports children and families affected by Congenital Heart Disease.
Mr Bryant was confident they would be able to make a sizeable donation to the foundation. "It should go pretty crazy, hopefully."
How to help
• @ Heart Foundation:
www.heartnz.org.nz
• Website for fashion auction:
tinyurl.com/lilysauction
- APNZ