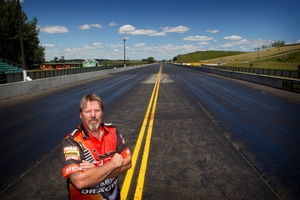 Police are taking a zero-tolerance approach on overzealous drag-meet fans who do their racing away from the track and on the roads.
They will also be targeting modified vehicles as Meremere and Taupo prepare for drag meets tonight and through the weekend.
Waikato police spokesman Senior Sergeant Rupert Friend said some drag fans were confusing structured, organised events with mayhem on the roads after several motorists were stopped following a November 1 meet at Meremere.
In the space of two hours a highway patrol officer on SH1 detected eight vehicles travelling at more than 135km/h. The fastest was clocked at 171km/h. In one incident, a driver reached 163km/h while "racing and playing silly" with two other motorists who were driving side by side - each travelling at 140km/h.
"Our concern is not with the legal race event where members of the public can enter their road-legal cars and race on the relative safety of the drag strip, but the actions of a few who then carry on with their competition on our roads," said Mr Friend.
Drivers travelling over the speed limit would face enforcement action.
Gary Bogaart, general manager of Fram Autolite Dragway, said the alcohol-free "Night Speeds" event at Meremere was attended by motoring enthusiasts - 90 per cent of whom were aged between 16 and 28 - who wanted a legal, cost-effective and safe place to race their cars.
He said the night drags had been running for more than 15 years and were set up in conjunction with police to get boy racers off the roads.
"The majority are good kids but there's a minority who will go out and wreck it and get caught doing stupid things on the streets."
Meanwhile, motorists travelling to Taupo for the PowerCruise event can expect extra traffic in and around the area and are being encouraged to allow plenty of time for their trips.
Sergeant Greg Weston, of Taupo police, said there would be police checkpoints and motorists would be breath-tested.
Motorists with modified vehicles would also be targeted.