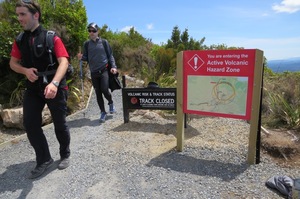 New electronic signs will alert trampers on the Tongariro Alpine Crossing to increased risk of volcanic eruption.
Lights on the signs will change from green to orange or red, indicating increasing danger or road closure, the Department of Conservation said.
DOC staff will change the signs remotely using cellular technology based on information from GeoNet, GNS Science or the Tongariro Eruption Detection System.
DOC technical advisor, volcanology, Harry Keys said keeping the crossing open following last year's eruptions had been a "struggle" as there was ongoing risk of further activity.
The electronic lights would allow trampers who were already on the track to be warned once the risk level changed.
"Once people are on the track its hard to get to them," he said.
"The eruption last year, the big one, was a really dangerous eruption so we needed to try quite hard to manage the risk.
"Having that means we can keep the track open."
During the summer months 1500 people a day can be on the track.
The electronic lights are located in four places, with triple lights (red, orange and green) in the Mangatepopo and Ketetahi hut carpark entrances to the crossing.
Red lights only are located at the boundary of the Active Volcanic Hazard Zone around the Te Maari craters which erupted in August and November last year.
Green means the risk is normal, orange is elevated risk, and red indicates the risk is high and the track is closed. The lights are powered by small solar panels and batteries.
DoC said the lights are not used to close the track for weather conditions, and trampers need to check weather conditions to determine whether it was safe to walk the track.
- APNZ